March 4th, 2009 by katie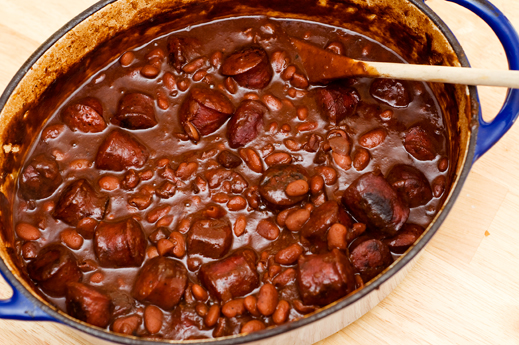 Blogging the Recession: Beans and Sausage
I hate beans, like really really.  Unfortunately people just keep telling me how good for you they are and how cheap to make they are and how delicious and filling they are.  Eventually even the staunchest bean hater starts to wonder if she's missing out.  So in the nature of being open minded, I began plotting a big pot of beans.  It took weeks to settle on the right recipe but Lisa at Homesick Texan never ever steers me wrong.
I wanted something sweet and spicy and not too beany and I wanted a recipe that didn't start with "one can pork 'n beans."  Seriously try to find a baked bean recipe out there that doesn't start that way, it is hard.  Beanie Weenies for Grown-Ups sounded perfect with some delicious locally smoked sausage links.
Beans and Sausage
serves 8, prep 10 min, cook 4 hours (soak beans overnight)
1 pound dry pinto beans
1 tbsp oil
1 onion, diced
4 cloves garlic, minced
1 cup molasses
3 tbsp good quality chili powder
1 tsp cayenne (optional, my chili powder was spicy enough to omit this)
2 tsp dry mustard
1/2 cup brown sugar
1/4 pound thick cut bacon, diced
1 cup strong black coffee
2 pounds smoked sausage links, sliced thick
Soak beans overnight, sort and drain.
Preheat oven to 300°F.
Heat oil in a large pot with an oven-safe lid or dutch oven.
Saute onions and garlic until soft.
Stir in molasses, chili powder, spices, and sugar.  Add beans, bacon, and coffee.
Add enough water to cover beans by two inches.
Cover the pot and place in hot oven for 2 hours.
Check beans, stirring and tasting.  Add more water if needed (mine didn't), cover, and cook in oven for another 30 min to an hour depending on the tenderness of your beans.
Check beans again, add additional molasses or spices.
Sear smoked sausage pieces quickly in a hot skillet then stir into beans.
Heat oven to 400°F and cook beans and sausage uncovered for 30 min to thicken the sauce.
If the sauce isn't thick enough you can put the pot back on the stove top and simmer while making cornbread, etc…
I really enjoyed this dish and want to experiment with different chili powders.  It was just barely sweet and very spicy (I used a combination of chipotle, del arbol, guajillo, and ancho chile powders) and didn't have that beany horrible-ness at all.  This meal was not as cheap as you would have expected, though.  The smoked sausage links were more expensive than hot dogs but really made it great.  Also I used salt pork which was pretty expensive for some reason and difficult to find.  Next time, I would use thick-cut bacon instead for both flavor and price.
Cost Analysis:
1 pound local crop pinto beans: $0.84
1 onion: $0.20
1/2 a head of garlic: $0.17
1/4 pound salt pork: $2.12 (use bacon next time)
1 cup molasses: $1
2 pounds local smoked sausage links: $7.58
not included: oil, spices, sugar, coffee
Total cost for 8 servings: $11.91 or $1.48 per serving
Serve with cornbread and some light green vegetable (I made asparagus that needed to be used up).  This is a serious meal, as in it makes you want to go find some cattle to rope.