September 24th, 2009 by katie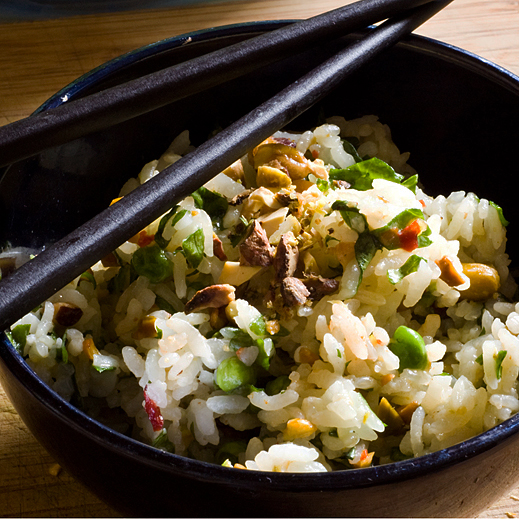 Back in July, Mark Bittman posted a fantastic article highlighting 101 salad ideas for the summer.  Since then, mrChaos and I have been working our way through the list in an attempt to add more fresh fruit and vegetables to our day.  Now that it is getting cooler, we are craving heartier fare but still want to eat dishes with less meat and fewer calories.  This "grain salad," number 96 on Bittman's list, is a wonderful, warm way to get some vegetables into your lunch.
It is a filling yet light tasting combination of sticky rice, sweet bursts and crunchy nuttiness with a spicy tingle in the background.  If you want more coconut flavor, add a splash of milk to the finished dish to loosen it up a bit.
Coconut rice with pistachios, peas, and spinach
makes 4 (1 cup) servings, prep 5 min, cook time 30 min
1 1/2 cup short-grain rice (sticky or sushi rice)
1/2 cup coconut milk
1 1/2 cup water
2-3 cardamom pods (optional)
1/2 cup frozen peas
2 cups baby spinach leaves, chopped
1/4 cup roasted, salted pistachios, chopped
1+ tsp chili paste, if you can handle it or red pepper flakes-to taste-if you can't
In a medium pot combine rice, coconut milk, water, and cardamom pods if using.
Bring to a boil, then cover and reduce heat to low.
Cook on low heat without lifting the lid for twenty minutes.
Remove from the heat and allow rice to sit (still covered) for ten more minutes before lifting the lid and fluffing the rice with a fork.
Discard cardamon pods and stir in peas, spinach, pistachios, and chili paste or red pepper flakes.  I added about 2 teaspoons chili paste.
Salt to taste and serve warm.  It's not too bad cold, either.
This stores and reheats well for lunches and would go great as a side dish with lamb chops or skewers of beef.  It's also vegan-and delicious.

Posted in Easy, Fast, Health/Nutrition, Main Dish, Sides