November 18th, 2009 by katie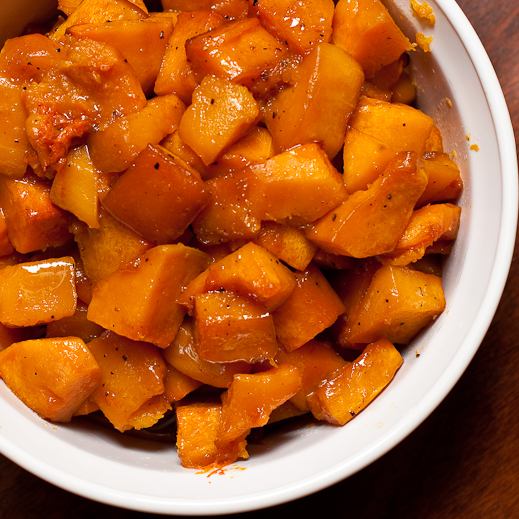 Thanksgiving dinner is really heavy on starches: stuffing, potatoes, broccoli rice casserole (for us), rolls and generally sweet potatoes as well.  Often what is lacking is a nice, fresh vegetable side.  Yes there's the green bean casserole but that's just as heavy as the rest of it.  No wonder everyone undoes their pants and takes a nap after dinner.
We have a delicious sweet potato casserole recipe we serve every year-a streusel topped dish layered with marshmallows that could stand in for dessert.  This year, I thought it would be nice to have a more subtly sweet dish as well as an extra vegetable choice.  This lightly sweetened roasted squash is the perfect combination of the two.
Caramelized Butternut Squash
serves 12, prep 10 min, cook 1 hour, adapted from
Recipezaar
5 lbs butternut squash (2 or 3 squashes)
8 tbsp butter, melted
1/4 cup brown sugar
salt and pepper
Heat oven to 400°F.
Peel squash and chop into large pieces.
Combine squash, butter, sugar, salt and pepper in a bowl.  Toss.
Pour squash out onto a rimmed baking sheet.
Bake for about an hour or until browned.
What vegetable sides do you serve during the holidays?