June 15th, 2008 by katie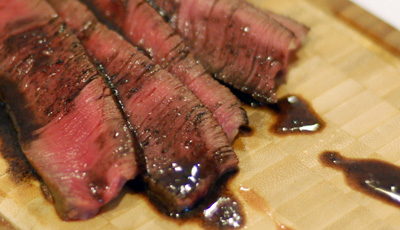 In typical Father's Day fashion: we're having steak. I did break from the mold, however, and chose a pan seared steak rather than a grilled one. Daddy Chaos loves this steak that a friend of his made for him at a party recently. Thanks, Greg for sharing your recipe with us, we've made it at least three times since then.
Top Sirloin with Red Wine Sauce
Serves 2-4, marinade time: 1 hour, cook time: 10 min
1 top sirloin steak 2-3 lbs
2 cups approx. good red wine
garlic powder
salt
fresh ground pepper
oil
1/2-1 stick of butter (4-8 tbsp), chopped into little bits
Using a bowl or dish that is large enough to hold your sirloin, fill with about a 1/2 inch of red wine. Whisk in garlic powder, salt and pepper. I usually use about 1-2 tsp each of garlic powder and salt and about 1/2 tsp of fresh cracked pepper. You want to choose a wine that you enjoy drinking because this will become the basis of your sauce later on. We tend to use Cabernet blends that have some shiraz/syrah components because they really stand up to the meat well.
Marinade the steak at room temperature for about an hour. It is ok for it to be unrefrigerated for that long and it will help the meat warm up a bit to room temperature. This keeps the steak juicy.
We use a cast iron pan, but you could use any not nonstick pan you have. Get your pan nice and hot and add a little oil. Using tongs to place steak in the pan, sear the steak on each side for about 1 1/2 minutes. Remove from pan when medium rare. We use the finger method to determine the doneness of steaks. Elise at Simply Recipes has a great explanation. This prevents juices from escaping when using a meat thermometer. We usually do pretty good-somewhere between medium rare and medium.
Allow steak to rest for 10 minutes while you make the sauce. It will continue to cook a bit during this time so don't worry if you feel you pulled it a little early.
Add the marinade wine to the hot pan, scraping up all the browned steak bits. Boil the wine uncovered until it reduces by about 1/2.
Take the pan off the heat and monté au beurre the sauce. Fancy, huh? I know! Monté au beurre means to stir in your bits of butter until a nice sauce develops. Take the pan off the heat and whisk in chunks of the butter, a little at a time, tasting as you go, until the color of the sauce lightens and it becomes rich and velvety. You don't want the pan too hot or too cold because the butter won't incorporate properly, however you have a good window-we've haven't ruined it yet. Just be sure you are constantly stirring and moving your sauce.
Adjust the seasonings in the sauce if necessary. Slice the sirloin thinly against the grain, and serve with the sauce drizzled over the top and alongside.
This is a great recipe to serve with simple steamed vegetables. Both because the meat is so delicious and because they can be made quickly while you are making the sauce. We like sugar snap peas and mashed potatoes.