December 15th, 2008 by katie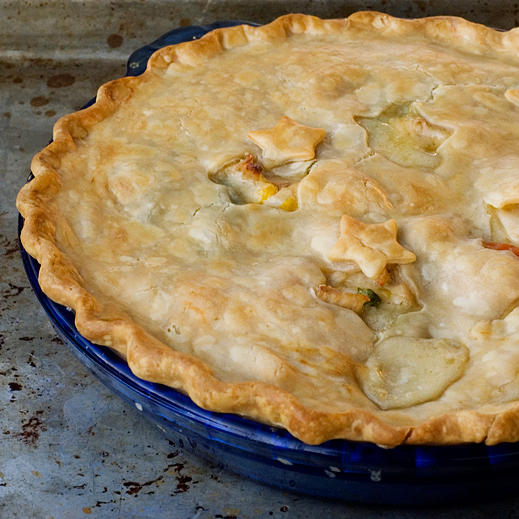 One of my favorite uses for leftover cooked chicken or turkey is a warm, comforting pot pie. You don't have to use the pie crusts for this if you don't like it that way. You can just use a top crust, a biscuit topping, puff pastry, or no crust at all-however you like it-but I really like the buttery pie crust and the textures it lends to each bite.  I also use this recipe to make Chicken Pot Pie Soup which is just a thinner version served without the crusts.
If you don't have any leftover chicken or turkey just brown one pound of boneless, skinless breast meat in a little butter, then add 2 cups of water and bring to a simmer.  Cover and simmer 15 minutes or until chicken is cooked through.  Remove the chicken to a plate to cool and pour the cooking water into a measuring cup to use in place of the chicken broth called for in the recipe (if needed).
Chicken Pot Pie
serves 8, prep 10 min, cook time 30 min, adapted from
Recipezaar
1/3 cup butter
1 onion, finely diced
1-2 cloves of garlic, minced
8 oz mushroom, sliced (optional)
1/3 cup flour
1 3/4 cup chicken broth
2/3 cup milk
2 cups cooked chicken or turkey, chopped
1/2 cup frozen crinkle cut carrots
1/4 cup frozen petite peas
1/4 cup frozen thin green beans, roughly chopped
1/4 cup frozen corn kernels
2 prepared pie crusts
butter, milk, or egg wash
Preheat oven to 425°F. Prepare pie crusts for double crusted pie.
Melt butter in a large skillet. Saute onion and garlic until soft.
Stir in sliced mushrooms and sprinkle with flour.
Cook flour mixture until flour is golden and mushrooms are beginning to brown.
Add broth and milk. Bring to a boil, stirring constantly until thick.
Add chicken and vegetables, cook until hot and thick.
Pour into a prepared bottom pie crust, cover with a top crust.  Brush top crust lightly with butter, milk, or egg.
Cut vents in the crust and bake for 30-35 minutes.
Allow to cool 10-15 min before cutting, if you can wait that long.
Adding 2 tablespoons of grated Parmesan cheese along with the chicken and vegetables is also delicious!  We serve chicken pot pie over a big pile of white rice, but you can also serve the filling over egg noodles for a great chicken and noodles. Use whatever veggie combination you like, I can't stand the bagged frozen veggie mix so I use my own combination that suits us. You can use whatever frozen veggies you like, about 1 1/2 to 2 cups worth.