October 8th, 2010 by katie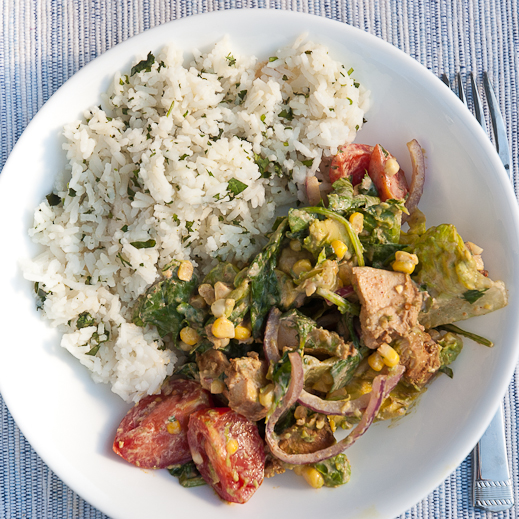 Here is an easy side to serve with your Mexican dishes.  Fluffy white rice tossed with fresh squeezed lime juice and chopped cilantro can make a light dish more substantial or a hearty dish a little lighter.  I am not a huge fan of the tomato based Mexican rice dishes but this rice adds just enough extra flavor while still being a blank canvas for highlighting the flavors in the main dish.  I always serve it alongside Chipotle Chicken Salad and it would go great with Enchiladas, Veggie Enchiladas, Tacos or Fajitas.  Or tuck it into burritos with chicken, refried beans, guacamole and pico for a great on the go lunch or dinner. 
This is only a loose recipe, you can make as much or as little as needed, just taste as you go and decide when the amount of salt, lime, and cilantro is just right.
Cilantro Lime Rice
cooked white rice
1 bunch fresh cilantro, chopped
fresh squeezed lime juice, 4-6 limes for about 4 servings or rice
coarse salt, to taste
Cook or re-warm white rice.  Fluff with a fork and allow to cool briefly.
Begin by adding the juice of one lime to the warm rice, stir to combine and taste.  Continue adding fresh lime juice until rice is tangy enough.
Repeat with the cilantro, add a few tablespoons at a time until the flavor comes through.
Repeat again with the salt (do salt last because the acidity of the lime juice will brighten up the flavors a lot and you may not need as much salt as you normally would), just adding a few pinches at a time and stirring well then tasting.
Taste dish again and adjust flavors as needed.

Posted in Easy, Fast, Sides, Uncategorized