June 23rd, 2008 by katie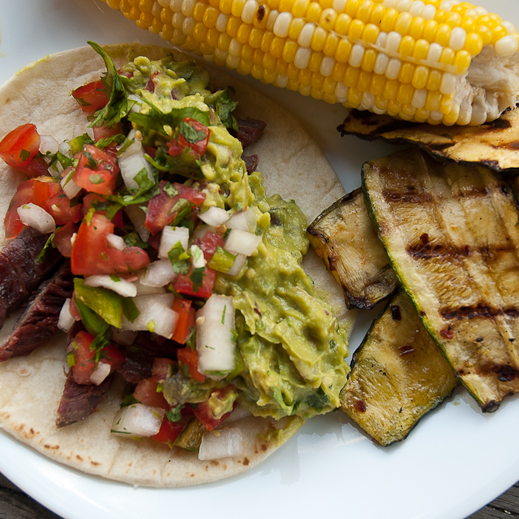 If you're grilling up some fajitas or ribs this summer, be sure to include some of this creamy dip on the menu. It will cool the burn as well as add some fresh, bright flavor.  If your avocados are still too hard the day before you want to make the dip, place the avocados and a banana in a bag and seal it.  Leave them overnight on the kitchen counter and in the morning you will have nice, soft, ripe avocados.  It really works!
I apologize in advance for not having an exact recipe for you.  Unfortunately, like pico, guacamole is not an exact science. It really is a "to taste" recipe. Here are the basics to get you started:
Guacamole
makes about 2-4 cups depending on number and size of avocados, etc..
6-12 soft, ripe avocados depending on the size (6 large avocados)
2-4 plum or Roma tomatoes
1/4 of a purple onion, finely diced
2 cloves garlic, minced
1 jalapeno or serranos
fresh cilantro
1 limes
salt
Corn tortilla chips
Cut the avocados in half, removing the seed and stem, and scoop the soft green and yellow flesh into a large bowl.
Quarter the tomatoes and scoop out the seeds then finely dice the flesh, set aside with the finely diced red onion and minced garlic.
Finely dice the green flesh of the peppers you are using and set aside. Serranos are hotter than jalapenos but with either one the heat is in the white seeds and ribs. I would start with just the green and add in seeds to taste.
Remove long stems from a bunch of cilantro, don't worry about where the leaves connect to the stem, a little is ok. Roughly chop cilantro and set aside.
Lightly mash the avocado and stir in about 1/2 the tomato and onion and some peppers and cilantro. Add the juice of 1/2 lime and about 1 tsp of salt. Taste.
Here's where you have to use your own judgement: add more tomato, onion, pepper or seeds, cilantro, lime juice and salt as desired until it tastes the way you'd like.
Serve right away, guacamole doesn't keep long although the more lime juice you use the longer it will keep.
Here's a trick to making your guacamole last a couple days in the fridge. Don't let it stay exposed to the air. Once you are done with it, scoop it into an airtight container, then use a sheet of plastic wrap and press it right up against the guacamole and up the sides of the container before putting the lid on. This can help the guacamole last as many as 2-3 days. Although it will always be best freshly made. Some people swear by leaving one of the avocado pits in the guacamole. I have tried it and I am not sure it worked any better than just keeping it covered.
You'll notice Guacamole is essentially just mashed avocado with some pico stirred in, you can definitely make it this way. We really like the flavor of red onion in guac and white onion in pico but if you have left over pico, by all means make up some guacamole with it.

Posted in Condiments, Sides, Snacks/Appetizers, Tips and Tricks