July 9th, 2010 by katie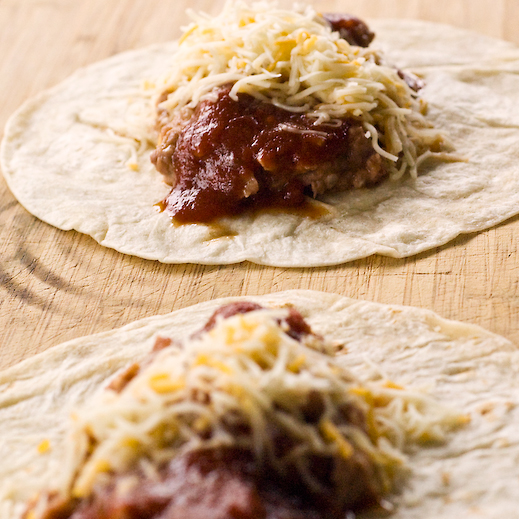 There are two kinds of fast food that I generally eat.  Sandwiches, subs, and to-go salads are my first choice, followed by a distant second-Taco Bell bean burritos (proof that I am not the only one who feels this way… ).  I try not to eat them often because they are NOT good for you, but there is something so comforting in the texture of the soft, warm beans and cheese accented by at least three packets of hot sauce.  This is coming to you from a person who wouldn't eat a bean to save her life before the last year or so.  Yet bean burritos have become comfort food to me.  They are a cheap and very filling hot meal.  One can of beans and two cups of shredded cheese, plus tortillas, can yield 8 burritos.  They're great for breakfast, keeping you full for hours.  They transport and keep well when made ahead.  It's a perfect food!
Of course you don't have to eat these beans in a burrito.  They are great as a side dish, or served inside tacos.  If I find myself short on meat and large on crowd, whipping up some beans will generally help fill the gap.  Below is my recipe for quick refried beans-because generally if we are having beans with/for supper we want them now-but you can also use cooked or canned pinto beans and mash them in the fat with a bit of the cooking/canning liquid. 
Quick Refried Beans
serves 4-8, prep 10 min, cook 10 min, adapted from
Rick Bayless's Mexican Kitchen
2 tbsp bacon drippings or oil
1/2 onion, minced
2 cloves garlic, made into a paste or minced
1-2 fresh jalapenos, minced (optional)
1 (15 oz) can fat-free, low sodium refried beans
Melt bacon fat in a large heavy skillet over medium heat.
Cook onions and garlic in fat until soft and translucent.
Add beans, breaking up with a wooden spoon.  Mix beans and onions together until uniform.
Spread bean mixture out in pan and allow to heat through and fry a little.
Season beans to taste with salt.  Serve warm, sprinkled with fresh crumbled queso fresco and minced cilantro if desired.
No bean burrito is complete without hot sauce and Taco Bell's is the best.  Once sold in bottles, we are now required to hoard our little orange packets.  In some areas they even charge for them over a certain number!  This recipe is a pretty good substitute, although I make no claim to whether or not it tastes just like the original.  I will warn you that the sauce tastes much better on the beans than it does from a spoon.  Increase the cayenne if you like it hotter or sub chipotle chili powder for the regular for a chipotle sauce (which is what you see above).
Copycat Taco Bell Hot Sauce
makes approx 3 cups, prep 5 min, cook time 5 min, adapted from
Recipezaar
6 oz tomato paste
3 cups water
2 tbsp pickled jalapenos, minced
1 tbsp dried, minced onion
1 1/2 tbsp chili powder
2 1/2 tsp salt
2 tsp cayenne
2 tsp cornstarch
2 tsp white vinegar
Combine tomato paste and water over medium heat.  Stir until smooth.
Add the rest of the ingredients, stir until well combined.  Bring sauce to a boil and cook for a few minutes.
Turn off the heat and let sauce cool before storing in the refrigerator.