October 4th, 2010 by katie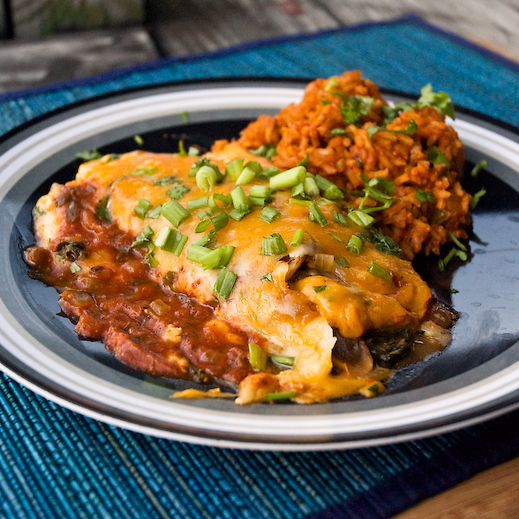 I am always on the look-out for hearty vegetarian meals to help stretch our budget.  Eating a few meatless meals every week is also great for our health and the earth, so really its a win all around.  Unfortunately, it can be hard to find meatless meals that don't leave us feeling unsatisfied or hungry after few hours.  These enchiladas are hearty and spicy and delicious!  In fact they are so hearty you won't even miss the meat.
My friend Reshma gave me her recipe.  Restaurant spinach enchiladas tend to be a bit bland and boring but these are amazing.  She makes hers with spinach and black beans or even sliced squash and zucchini.  Spicy and flavorful, the key is to season every layer of the dish.  Serve with beans and rice and you have a fiesta. This recipe will yield extra enchilada sauce which you can use to make rice and/or save for another batch of enchiladas.
Spinach and Mushroom Enchiladas
serves 4-6, prep 40 min, cook 10 min
2 tbsp olive oil
1 large onion, minced, divided
1 poblano pepper, diced
2 (29 oz) cans tomato sauce
5-6 cloves garlic, minced, divided
1 bunch cilantro, minced, divided
2 tsp chili powder
1 tsp red pepper flakes
1 tsp cayenne
1 tsp cumin
1 tsp salt
1/s tsp oregano
1/4 tsp black pepper
1 pinch baking soda
1 tbsp olive oil
1 tbsp butter
8 oz mushrooms, sliced
8 oz fresh baby spinach
juice of 1/2 lime
salt and pepper
8-10 fresh yellow corn tortillas
8 oz pepper jack cheese, shredded
8 oz sharp cheddar and pepper jack, shredded, mixed
1 bunch green onions, greens only, sliced
In a stock pot heat oil over medium heat.  Saute 1/2 onion and pepper until soft.
Add tomato sauce, 1/2 of garlic, 1/2 of cilantro, chili powder, red pepper, cayenne, cumin, salt, oregano and black pepper.  Add a pinch of baking soda, stir and simmer sauce 30 minutes.
In a large skillet, heat 1 tbsp each oil and butter over high heat.
Add mushrooms, a few at a time, adding more as each batch begins to brown. Once all mushrooms are browning, add the rest of onions and garlic.
When onions are softened add spinach all at once, stirring often.  Once spinach begins to wilt, turn off heat. Add lime juice, taste, season with salt and pepper to taste.
Preheat oven to 375°F.  Ladle red sauce over the bottom of a casserole dish.
Heat corn tortillas int he microwave or by dipping each tortilla in sauce then filling.
Fill tortillas with a bit of pepper jack cheese and spinach and mushroom mixture.
Close tortillas and place seam side down in baking dish.
Top tortillas with any remaining spinach mixture or cheese.
Cover with red sauce.  Top with cheddar and pepper jack mix.
Bake 10-15 minutes or until cheese is melted.  Top with diced green onions.
We have a lot of potlucks at work.  Most of my co-workers eat meat but several of them don't so we have tried to add more vegetarian dishes to our repertoire.  I have brought this corn casserole, this pasta salad, and kettle corn to office potlucks because I know it is always possible one of my vegetarian friends will be eating with us.  What about you?  Do you try to accommodate special diets when bringing potluck dishes?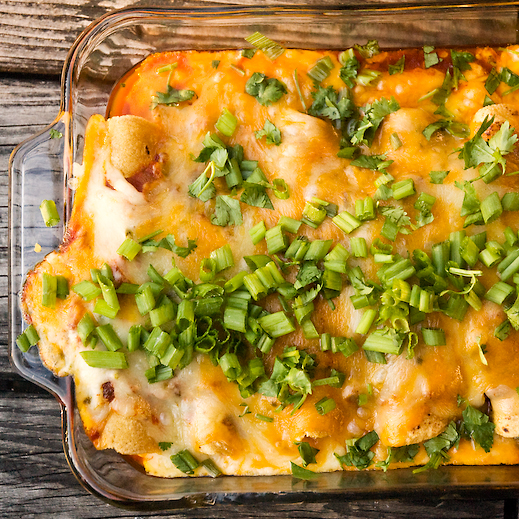 Posted in Health/Nutrition, Main Dish