March 8th, 2010 by katie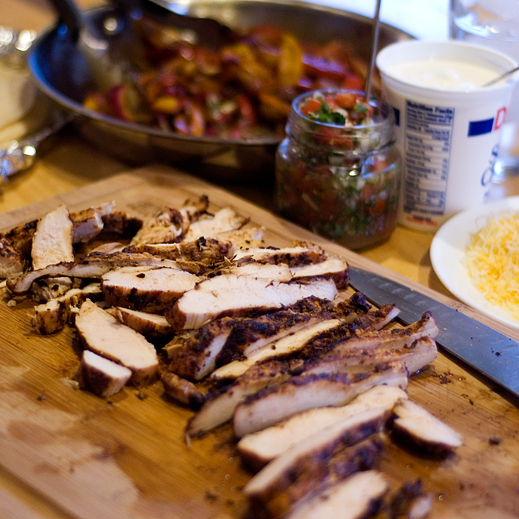 We love fajitas, tacos, and anything else you can roll up in a tortilla.  Chicken fajitas are great because you don't have to remember to marinate them ahead and they only take a few minutes to cook.
Chicken Fajitas
serves 4, prep 10 min, cook 20 min
2 tbsp oil
juice from 1/2 large lime (about 2 tbsp)
2 tsp chili powder (I used 1 tsp ancho and 1 tsp chipotle and they were medium-spicy)
1 tsp garlic powder
1 tsp onion powder
1 tsp mexican oregano
1 tsp cumin
1 tsp salt
2 lbs boneless, skinless chicken breasts
1-2 tbsp oil
3 large bell peppers, red, yellow, and orange
1 large red onion
salt and pepper
In a large zip-top plastic bag combine oil, lime juice, chili powder, garlic powder, onion powder, oregano, cumin, salt, and chicken breasts.  Seal bag and shake and squish to thoroughly coat chicken.
Heat oil in a skillet over medium heat.  Add peppers and onion to hot oil and saute until soft and caramelized. Salt to taste.
While veggies are caramelizing, heat grill, grill pan, or frying pan.
Remove chicken from bag and grill or sear until cooked all the way through.
Slice chicken and serve with warm tortillas, peppers, sour cream, cheese, pico de gallo and/or guacamole.