November 27th, 2011 by katie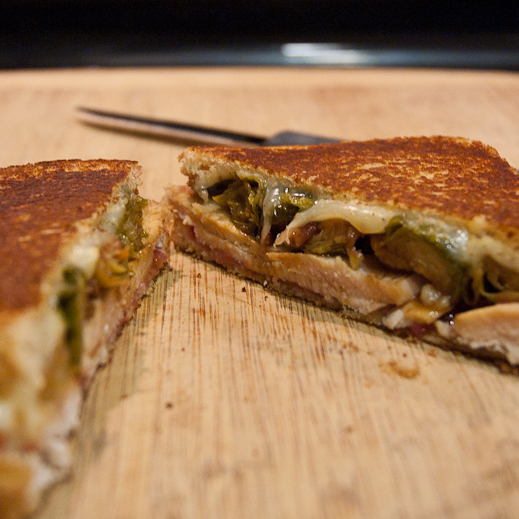 Are you still eating Thanksgiving leftovers?  For me, Thanksgiving lasts for days.  Between dinner on turkey day, pie breakfasts all through the weekend, and Thanksgiving redone in the office microwave on Monday, we always cook enough food to last a week.  So I don't typically get very creative with my leftovers.  I save the turkey to make tortilla soup and pot pie but I love my stuffing and green bean casserole just as they are.
This is a fun post-feast lunch or snack, turkey grilled cheese with cranberry sauce and-for me-left over Brussels sprouts.
Turkey and Cranberry Sauce Grilled Cheese
makes 1 sandwich, prep 2 min, cook 5 min
two slices bread
softened butter
sliced turkey breast
swiss cheese
stone-ground mustard
Heat a skillet or griddle to medium-low.
Butter one side of each slice of bread.
Flip bread buttered side down and spread cranberry sauce on one slice and mustard on the other.
Place turkey and a thin layer of any left-over goodies you like: stuffing, sweet potatoes, Brussels sprouts, etc. over the cranberry sauce and then top with cheese.
Close sandwich mustard side down so the buttered sides are facing out.
Place sandwich on the griddle with cheese side up and cover with a pot lid.  Heat about 2 minutes then check the underside for browning.
When nicely browned, flip sandwich and cover again for about 2 minutes.
Check the toasted side and remove sandwich to a cutting board.
Slice and enjoy.  Tastes like Thanksgiving!
I hope you had a wonderful holiday!  I am so thankful for our health and happiness and for you all.  I hope the holidays brings wonderful things for you and your family!