April 11th, 2010 by katie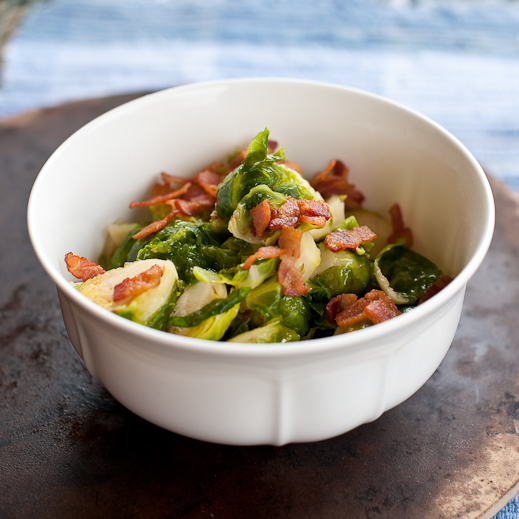 I don't have nearly enough recipes for side dishes.  My go to sides are generally rice and a green vegetable tossed into the microwave to steam for 5 minutes while I hastily set the table.  I am generally so overwhelmed just by getting the main course onto the table that the timing and effort required by complicated side dishes is beyond my ability.  Yet, sometimes it is nice to have slightly more complicated veggies.  Especially when that little boost of flavor is enough to get people to eat what they wouldn't necessarily try.  Of course every thing is better with bacon.  Top it off with a little brown sugar and its almost dessert right? 
These Brussels sprouts aren't exactly standing in for dessert.  There is neither enough bacon nor brown sugar in them to negate their vegetably goodness.  They are simply tender and just barely sweet-just sweet enough to offset that Brussels sprouty bitterness-tossed with crisp crumbled bacon and finished with a little butter.  They are a wonderful way to serve what is typically a maligned vegetable. 
The best part is the delicious sweet, buttery flavor.  The next best part is that they aren't complicated at all, leaving you plenty of mental capacity to get the main course done properly. 
Brown Sugar Bacon Brussels Sprouts
serves 4, prep 10 min, cook 20 min, adapted from Southern Living, December 2008
4 bacon slices, roughly chopped
14 oz chicken broth or drippings plus water to make 14 ounces
1 tbsp brown sugar (may omit in the case of sweet drippings such as from a honey or brown sugar ham)
1 tsp salt
1 1/2 pounds Brussels sprouts, trimmed and halved
butter
In a medium pot, saute bacon until crisp and remove to a paper towel.  Pour off fat if desired.
Bring chicken broth or chicken or ham drippings, plus enough water or broth to make 14 ounces, to a boil.
Stir in brown sugar and salt.  Add Brussels sprouts and cover.
Cook brussel sprouts 6-10 minutes or until desired tenderness (tender but not mushy).
Use a slotted spoon to remove Brussels sprouts to a serving dish.
Top with a bit of butter while hot and the crumbled bacon. Serve.
I made these with the drippings from our Easter ham which had a brown sugar glaze, making the additional brown sugar and bacon fat unnecessary.  Try them, try them!  I love Brussels sprouts but mrChaos doesn't and yet he really enjoyed these.  FTW!