June 21st, 2010 by katie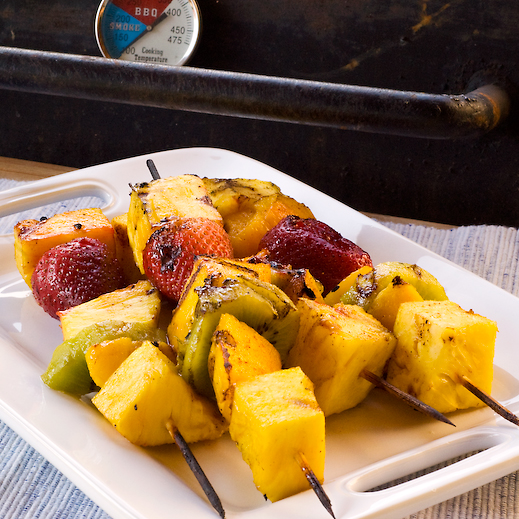 This year mrChaos chose to make ribs for Father's Day.  I made coleslaw and family brought corn salad, but I wanted another light side dish that would be fun and make good use of the hot grill.  Originally I planned on grilling up some thick pineapple rings but why stop there?  These fruit skewers make a great side, fruit salad, or dessert.  If you don't want to use rum, you can use all fruit juice or simply omit the rum mixture.  You can also omit the spices, or add a little cayenne or cumin, but do not omit the powdered sugar.  It helps the fruit caramelize quickly on the grill. 
Rum Soaked Grilled Fruit Skewers
makes approx 15 large skewers, prep 20 min, cook 10 min, adapted from
Fine Cooking, September, 2000
1 pineapple, peeled, cored
5 kiwis, peeled
3 mangoes, peeled, pitted
16 oz strawberries, hulled
1/4 tsp cinnamon
1/4 tsp allspice
1/8 tsp ginger
pinch nutmeg
pinch cloves
1/4 cup dark rum
1/2 tbsp brown sugar
1 tsp honey
1 tbsp pineapple juice
1 tbsp lime juice
1/2 cup powdered sugar
Chop pineapple and mango into 1 to 1/2 inch cubes, slice kiwis into 1 inch rounds, leave strawberries whole.
Combine spices in a small dish.
Combine rum, sugar, honey, and juices in a small bowl or measuring cup.
Thread fruit onto skewers, lightly sprinkling each skewer with spice mixture.
Just before grilling, brush fruit skewers all over with rum mixture then dust liberally with powdered sugar on all sides.
Grill fruit just until grill marks appear then rotate and grill other side.
Remove to a serving platter, pour over any remaining rum mixture.
These skewers are meant to be served on their own, but I also made some marshmallow fruit dip for the kids to dip their non-rum soaked fruit in.

Posted in Easy, Salads, Sides, Snacks/Appetizers