December 17th, 2009 by katie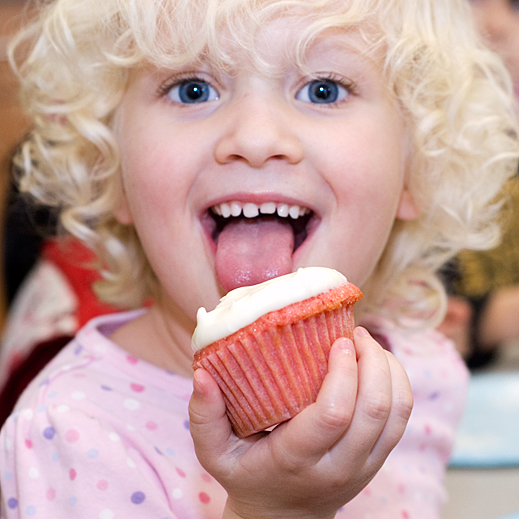 What could possibly be more perfect for a little girl than pretty pink cupcakes with marshmallow frosting?  This is a family favorite frosting from my mother and couldn't be easier to mix together.  I am not quite ready to share the cake recipe with you, I need to work a few kinks out before I unleash it on the world-but the frosting? Is bananas.  The richness of the cream cheese is balanced by the smooth sweetness of the marshmallow, and with just two ingredients to mix together, how could you go wrong?
Marshmallow Cream Cheese Frosting
makes 2 cups, prep 10 min
7 oz. cream cheese, room temperature
7 oz. marshmallow creme (found in a jar in the baking aisle)
Be sure your cream cheese is softened before you start or you will wind up with cream cheese chunks.
Beat cream cheese in a bowl until smooth.
Dip a spatula in hot water and scoop marshmallow fluff out of the jar and into the mixing bowl.
Beat cream cheese and marshmallow until combined.
For a large batch of cupcakes or a layer cake you will need to double the recipe which is just equal parts marshmallow fluff and cream cheese.  You can also use the tubs of pre-whipped cream cheese instead of the blocks for a lighter, sweeter marshmallow taste.  If your frosting is too thin chill it briefly in the fridge.  I don't usually pipe this frosting onto the cupcakes since the marshmallow gives it a nice thick viscosity.  You can use a spoon to just plop a dollop of frosting onto the top and then smooth it out a bit.  Chill cupcakes briefly in the fridge and the frosting will hold its shape.

Posted in Desserts