May 22nd, 2010 by katie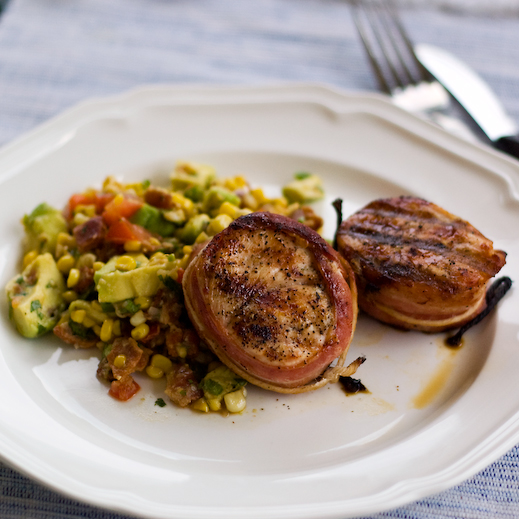 I love bacon wrapped turkey mignons.  They are meaty and special and, when cooked on the grill, smoky and crisp on the outside and juicy and tender on the inside.  You have to be very careful not to over cook them, however.  Turkey will dry out in a flash, which is why we wrap a thick coat of bacon around the outside of each steak.  The bacon is not really for eating, it won't crisp up very much, but it keeps the turkey from drying out and lends its flavor to the steaks.
Alternately, you can use skewers to keep your medallions wrapped properly but I prefer twine because the less you pierce your steaks the juicer they will be. 
Bacon-Wrapped Turkey Mignons
serves 4, prep 15 minutes, cook time 10 minutes
2 turkey tenderloins, get ones with the widest diameter you can find
6-8 slices of thick cut bacon (or twice this amount of regular bacon)
cooking twine
salt and pepper
Slice your tenderloins into thick medallions trying to make them all an even thickness.  The thinner end pieces can be folded in half to create a medallion of similar thickness or discarded.  Approximately 2 lbs of turkey tenderloin will yield six to eight, two inch thick medallions.
Wrap a piece of thick cut bacon around each medallion and secure by tying with cooking twine.
Salt and pepper medallions on both sides.
Grill medallions, or cook on a grill pan, approximately 5 minutes per side or until an internal temperature of 160°F.
Remove medallions to a plate, cover with foil and allow to rest ten minutes before serving.
This corn salad is a perfect summer time dish.  We love it so much we have made it several times in the last few weeks.
Summer Corn Salad with Bacon and Avocado
prep 15 min, cook 15 min, adapted from
Mark Bittman
1/2 lb of bacon, diced
1 cup minced red onion
6 ears of corn or about 3 cups corn kernels
2-3 roma or plum tomatoes, diced
2 limes, juiced
1/4 cup cilantro, chopped
2 avocados, diced
salt and pepper
Cook diced bacon over medium heat until crisp and fat is rendered.  The bacon will soften up in the salad so be sure to cook it all the way through.
Add red onion and cook until slightly softened.
Add corn kernels and cook for several minutes or until golden brown in spots.
Pour corn mixture into a large salad bowl.  At this point, you can use it right away and serve the salad warm, or let it sit and cool for a bit, then serve at room temperature.
Stir diced tomatoes, lime juice, and cilantro into corn mixture until well combined.
Carefully fold in diced avocado.
Taste and season with salt and pepper.