January 19th, 2010 by katie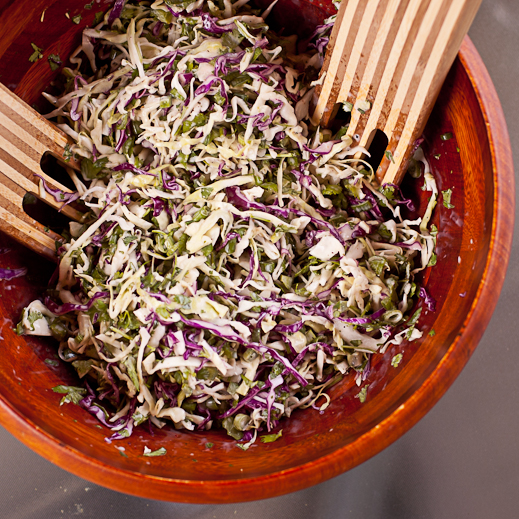 I have always enjoyed coleslaw.  It is especially refreshing alongside the heavy, meat–laden barbecue meals that are so popular here in Texas.  I created this recipe years ago in an effort to convert the coleslaw haters.  If you a a cilantro hater then I just don't know how to help you.  But if it's the cabbage that just doesn't quite turn you on, I have the solution here.  This salad is gorgeous when you take the time to shred red and green cabbage with a chef's knife but is just as tasty with pre-chopped coleslaw mix.  Creamy, crunchy, sweet and spicy, if you're the type to pluck a cilantro leaf from the bunch and chew it while absentmindly chopping then this is the coleslaw recipe for you.  
Cilantro Slaw
makes 4 cups, prep 15 min, chill 20 min
1/4 cup buttermilk
1/2 cup mayo
1 1/2 tbsp cider vinegar
1 1/2 tbsp lime juice
2 tbsp sugar
1 tsp salt
1/2 tsp black pepper
8 cups green and red cabbage, shredded finely
1 bunch cilantro, roughly chopped
1 bunch green onions, about 8, sliced
1 jalapeno, minced
salt and black pepper, to taste
Combine buttermilk, mayo, vinegar, lemon juice, sugar, salt, and pepper in a small bowl or glass measuring cup.
In a very large bowl, combine cabbages, cilantro, onions, and jalapeno.  Toss to combine.
Pour dressing over and toss thoroughly.  Serve as soon as possible.  Salad will wilt and reduce down quite a bit the longer it sits.