May 7th, 2010 by katie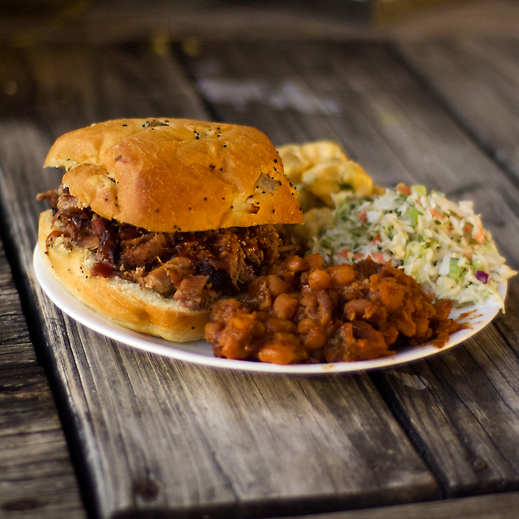 There is nothing better than a good barbecue.  Grilling and smoking and eating and laughing and running through the sprinklers-barbecues are the quintessential summer get together.
I love barbecue and I look forward to grilling and smoking season all winter.  We try to smoke a brisket a couple of times a summer.  It is all-night process, brisket has to smoke for an hour a pound and most packer trimmed briskets are at least 15 pounds, but one that yields plenty of juicy slices and flavorful chopped bits for a crowd.
Smoked Brisket
makes 1 brisket, prep 15 min, cook 1 hour per pound
1 whole packer trimmed beef brisket
1 (12 oz) can beer
1 can water
1 can cider vinegar
1 large onion, juiced
Set brisket out two hours before you plan to cook it so it can warm up to room temperature. Trim some fat from the large slab on the top of the brisket.
Prepare grill or smoker for indirect heat.  We use mesquite wood cut with pecan (using all mesquite can make your barbecue bitter).
Rub brisket all over with spices of your choice.  We use this recipe, doubled.
Grate an onion over a large bowl then strain the juice into a large pitcher.  Put the onion pulp inside a clean dish towel and squeeze over the pitcher to extract any additional juice.
Add a beer and an equal amount of water and cider vinegar to the pitcher.
Smoke brisket for one hour per pound at 220°F.  Every hour, turn brisket and baste or spray with mopping sauce (beer mixture).
When the brisket's internal temperature reaches 190°F, remove from the heat and allow to rest 30 minutes before slicing.
Alternately, you can remove the brisket from the smoker after a few hours and wrap it in foil and place in a 220°F oven.
Once brisket is ready, thinly slice the lean side of the brisket.  Remove as much fat from the fatty side of the brisket as you can, then roughly chop the meat to make chopped beef for sandwiches.
These beans are delicious alongside your barbecue.  Remember that all of the heat in the jalapenos lies in the seeds and membranes.  Keep that in mind when you chop your jalapenos, removing the seeds will keep the jalapeno flavor without adding much spiciness.  For spicier beans, add more of the seeds back in.
Barbecue Baked Beans
serves 12, prep 20 min, soak 8 hours, cook 8 hours, adapted from
Alton Brown
1 pound dried Great Northern beans
1 pound bacon, chopped
1 onion, chopped
2 jalapenos, chopped
1/4 cup tomato paste
1/4 cup dark brown sugar
1/4 cup molasses
4 cups ham, chicken, or vegetable stock
1/4 teaspoon cayenne pepper
1 teaspoon black pepper
2 teaspoons kosher salt
1 cup brisket drippings, optional
1 cup chopped brisket, optional
Soak beans overnight in enough water to cover, plus two inches.
Drain beans, reserving liquid if desired, and sort.
Heat a large dutch oven over medium.  Cook bacon, onion, and jalapenos until onions are soft.
Add tomato paste, sugar, molasses, and beans.  Stir to combine.
Add 4 cups of liquid to beans.  I used ham stock but you can use ham, chicken, or vegetable stock, or the water from soaking the beans.
Add spices and salt, stir beans and cover dutch oven.
Bake beans, covered, in the oven at 250°F.  For about 3 hours.  Check beans for tenderness.
Once beans are tender, remove lid and continue cooking uncovered until sauce is reduced, about 5 more hours.
Alternately, you can add one cup of de-fatted brisket drippings and chopped beef at any point.
You can also cook the beans inside the smoker while the brisket is smoking, either placing them alongside the brisket or beneath it if possible to catch the drippings.