August 25th, 2010 by katie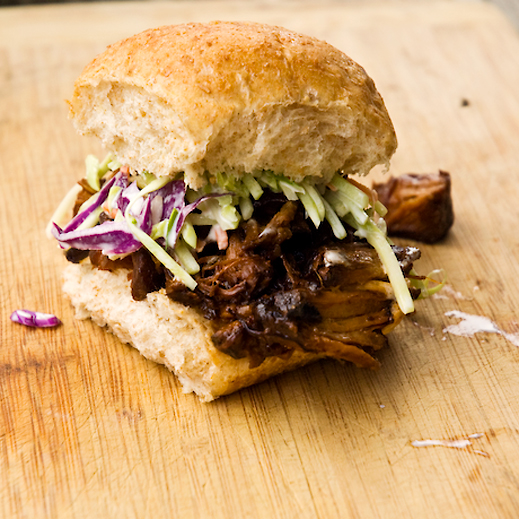 When you know there is a busy day coming up, planning a crock-pot meal is a great way to keep yourself out of the drive-thru.  It is also a great way to make a lot of food all at once, which means leftovers for lunches or for freezing and pulling out on a future busy day.  These sliders are a super fun, fast meal that can sit-on hold-in the crock-pot for as long as you need.  I put the meat on before bed the night before I wanted to serve them because I didn't think I would have enough time to get them on in the morning and it still was moist and tender twenty hours later.  It also would have been a perfect breakfast after only eight hours so feel free to start it the morning of if you like.
You may feel tempted to skip or rush the searing portion of the recipe but this is your only chance to get that delicious, caramelized flavor into your dish.  It also locks the juices into each chunk of pork keeping the meat moist until you are ready to eat.  So give yourself plenty of time to brown each piece completely and to cook the dish on low for at least eight hours. 
Crock-Pot Root Beer Pulled Pork Sliders
serves 12, prep 20 min, cook 8+ hours in slow cooker
5 lb boneless pork shoulder, cut into large chunks
2 tbsp oil
salt and pepper
1 (12 oz) can Root Beer or Dr. Pepper
small buns or dinner rolls
your favorite barbecue sauce
Sprinkle pork with salt and pepper.
Heat oil over medium heat in a large, heavy pot or dutch oven.
Sear pork shoulder pieces a few at a time until all sides are browned and caramelized.
Add pork to a slow cooker as they finish.
Pour soda over pork and turn slow cooker to low and cook 8-20 hours.
To serve, use two fork to slightly shred meat leaving some larger pieces.
Split buns or dinner rolls and lightly toast.
Toss each serving with a little barbecue sauce just to moisten.
Serve tucked into warm rolls with a little broccoli slaw or coleslaw if desired.
I really love the creamy, crunch of fresh slaw with these meaty sandwiches.  To make a quick slaw: toss packaged broccoli slaw or bagged coleslaw with 1/4 cup mayo, 2 tbsp buttermilk or milk, a tablespoon of cider vinegar, lemon, or lime juice and a pinch of sugar, salt, and pepper.  Make this at least 30 minutes before you are ready to serve and chill it until dinner time.
By the way, the kids really expected this dish to be sweet and to taste like soda.  It doesn't.  It is juicy and meaty but the soda is just a braising liquid that helps to tenderize the meat.