October 14th, 2009 by katie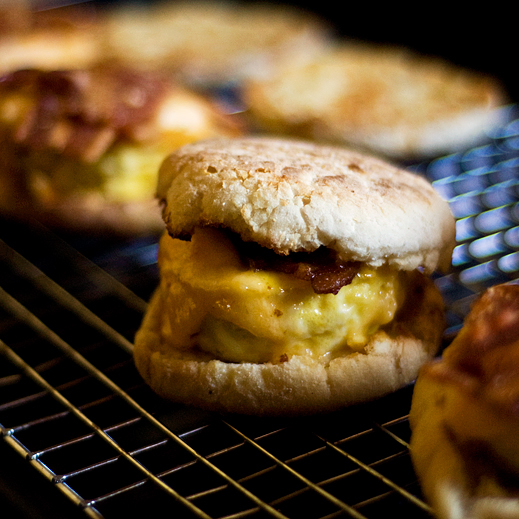 I love a nice, light yogurt parfait in the mornings.  But some mornings, a cup of yogurt just isn't going to cut it.  I like to have heartier breakfast fare stashed in the freezer for those occasions.  These sandwiches are so easy and delicious you'll want to keep a large stash on hand for grab and go convenience on busy mornings.  This is one of those convenience food swaps that takes a few minutes to prep but if you are going to make one you might as well make a dozen.
Breakfast Sandwiches
makes 12 sandwiches, prep 10 min, cook time 20 minutes
12 english muffins or mini bagels
1 pound bacon or 12 sausage patties
12 eggs
3 cups shredded cheese or 12 slices of cheese
Toast english muffins or bagels, set aside.
Cut bacon in half and cook or cook sausage patties.  Set aside.
Grease a muffin tin and either crack an egg into each muffin space and lightly beat or beat eggs together in a bowl and pour into each space.
Bake eggs at 400°F for 10 minutes or until almost done.
When eggs are almost set cover each egg with 1/4 cup shredded cheese.
Return to the oven until cheese is melted.
Remove egg/cheese muffins and allow to cool.
Assemble sandwiches and allow to cool completely.
Wrap in plastic wrap, then store in a freezer bag in the freezer.
To reheat, unwrap and microwave for 1 minute to 1 minute 30 seconds, checking every 30 seconds.
These are also good in the refrigerator if you will eat them within a week.  Just warm up for 30 seconds in the microwave.