March 6th, 2009 by katie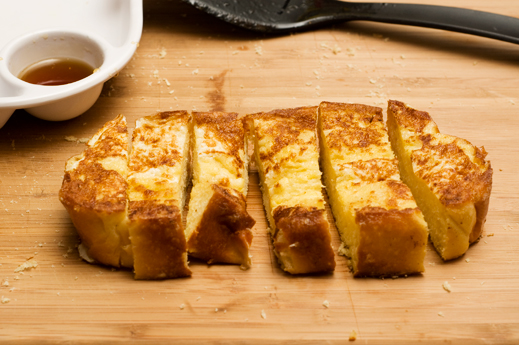 Blogging the Recession: Freezer Foods
More breakfast solutions, coming at you.  I love french toast.  Our family has always made french toast for special breakfasts, more so than pancakes, eggs, or waffles.  I have always enjoyed making it for the kids when they were little but now that we are so busy in the mornings before school we don't have it very often.  A great weekend recipe is a huge batch of french toast, with all the extras sliced into sticks and stashed in the freezer for the grab and go convenience of school mornings.   
I made these with some indulgent challah bread but any Texas Toast or thick cut sliced bread will work.  The nice thing is you can buy the "priced to sell" stale bread since you will be soaking it in egg and frying it anyway. 
French Toast Sticks
serves 12 kids or 6 adults, prep 10 min, cook 15 min
1 loaf bread cut into 12 thick slices (depending on the size of your loaf)
1 dozen eggs (or 1 egg per slice of bread)
1/2 cup milk
pinch of salt
dash of cinnamon and/or vanilla
oil or butter for frying
In a pie dish, wisk together eggs, milk, salt and cinnamon or vanilla, if using. 
Dip one or two bread slices into the egg mixture at a time. 
Let them sit and absorb the egg while heating a skillet over medium-high heat.
Sprinkle your hot skillet with oil and carefully removed the soaked bread from the gg mixture, allowing the excess to run off.
Fry one or two pieces at a time over medium high heat until eggs are cooked and brown.  Soak the next two slices in the egg mixture while you are cooking.
They should only take a couple minutes per side to cook.  Remove slices to a cooling rack, sprinkle the skillet with oil and continue frying until egg mixture is gone.
Once toast is cool, slice into thick sticks and place on a baking sheet to freeze.  Once frozen, place the sticks into a freezer bag to store.
To reheat: remove the number of sticks desired and microwave in 30 second intervals until warmed throughout, about 1-2 minutes.
Cost Analysis:
1 loaf challah bread: $4.29
1 dozen cage free eggs: $2.19
1/2 cup organic 1% milk: $0.19
Total Cost for 12 servings: $6.67 or 56¢ per serving