February 8th, 2009 by katie
It just doesn't have the same ring to it when written.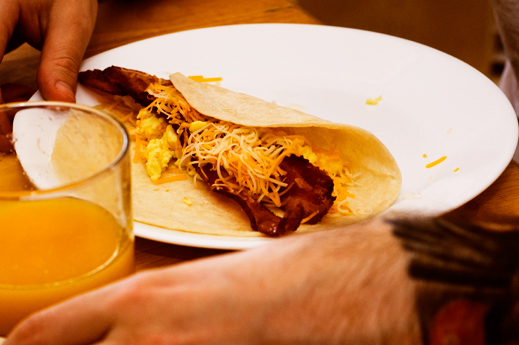 Does anyone not love bacon? We love bacon as much as the next family and frequently cook a pound of it to have with fried eggs, rolled up into breakfast tacos, or added to sandwiches or burgers or salads.  Generally, we pan fry our bacon because it gives us a lot more control over the doneness level.  I like bacon to be chewy but not rubbery and mrChaos likes it a little more done and cispy.  Pan frying a pound of bacon takes probably 30 minutes of active cooking time-standing at the stove, checking, flipping, rotating, removing pieces that are done and adding new ones.  It is a bit of a pain especially when everyone is clamoring for their eggs to be done and the toast needs to be started and is there any butter?
We decided recently to experiment with different bacon preparations.  The microwave is ok, it tends to over or under cook the bacon but is ok in a pinch for a couple slices.  I have found a minute per slice to be a good guideline.  Baking the bacon was the next frontier then.  How nice would it be to just lay out a pound of bacon on a tray, set a timer, then wander off to do whatever it is that needs to be done?
We did two baking sheets for one pound of bacon-one with a rack and one without.  The bacon cooked on the rack was thinner and crisper and could be difficult to remove from the rack without tearing.  It was mrChaos's favorite.  The bacon cooked directly on the baking sheet was thicker and chewier and a bit greasier-definitely my favorite.  Pan frying is still our favorite method, but the baking method is a close second and we will probably continue using it both with and without a rack.
Bakin' Bacon
makes 1 lb, cook time 20-30 min
Line two rimmed baking sheets with foil (that's the best part of this method, no clean-up, just crumple and toss), do not skip this step because you do not want to have to clean up baked on bacon grease.
Place bacon either directly onto foil lined baking sheets or onto cooling racks placed on the baking sheets depending on your preference.
Arrange baking sheets in a cold oven, turn heat to 400°F.
Check bacon frequently after about 15 minutes or whenever your oven beeps to let you know it is ready.
Remove bacon once it is cooked to desired doneness.  We removed it in a couple of batches, the first batch was the end pieces that were done faster than the pieces in the center.
Blot on paper towels, serve or store.

Posted in Breakfast, Easy, Fast, Sides, Snacks/Appetizers