June 30th, 2008 by katie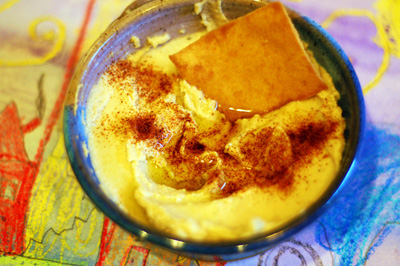 Yes, I am one of those picky kids who hates beans. I would make a very poor vegetarian for the very reason that the texture and smell of beans in any fashion makes me gag. So no wonder I never liked hummus. Wait, what? "Hummus isn't made of beans," you say. Well, let me tell you, my gag reflex knows when it's in the vicinity of beans and hummus-well, it's just glorified bean dip. But you know what? I LOVE homemade hummus. The store-bought stuff is super beany, like eating re-fried beans straight from the can beany. But homemade hummus? Homemade hummus is creamy and nutty and garlicky and delicious! And easy! You just dump the ingredients into a blender or food processor and whiz away. Here is a great video though my recipe is a bit different due to the beaniness factor.
Hummus
Makes about 4 cups
1 can (15 oz) garbanzo beans, drained and rinsed
1/2 cup tahini
1 1/2 cloves garlic
6-8 tablespoons fresh lemon juice
water
pinch cayenne pepper
salt & pepper to taste
paprika
olive oil
Drain the chickpeas.
Add all ingredients except spices, oil, and water to the blender/food processor.  Start with the smaller amounts of lemon juice and add more as you go.
Puree until smooth adding small amounts of water as necessary to make it smoother and creamier. Taste and adjust salt and pepper if necessary.
Spoon hummus into a dish and drizzle with olive oil to taste and dust with paprika and cayenne.
It will have the best texture at room temperature.
Eat this with crackers, pita bread wedges, or pita chips. You can also dip carrot chips or celery in it for a healthy, low-cal snack. I don't but you could.

Posted in Easy, Fast, Health/Nutrition, Snacks/Appetizers