March 13th, 2009 by katie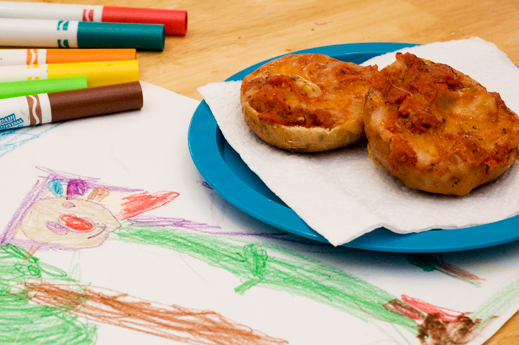 Blogging the Recession: Freezer Food
So far in our quest to make our favorite convenience foods at home I have made corn dogs, frozen breakfast tacos, and french toast sticks.  Convenience foods are an important consideration when making your grocery budget.  It is one of the most expensive budget items and also one of the first that financially savvy people will tell you to cut.  On the other hand convenience foods are a product of our busy lives-we need quick bites that we can heat up for kids on the go to keep us out of the drive-thru lane.  Mini pizza bagels are one of the freezer aisle snacks we grew up with.  Crisped in the toaster oven or simply nuked in the microwave they were an easy snack we could fix ourselves after school.  They were even dinner occasionally on busy nights before running off to practices or first jobs.
If you aren't familiar with bagel bites they consist of a small bagel base topped with a bit of red sauce and a smattering of cheese and pepperoni cubes.  They are often dry and hard and missing their coveted pizza toppings due to slippage.  Homemade pizza bagels are a world away from their tiny freezer aisle counterparts.  They are chewy and soft or chewy and crisp (depending on the cooking method), they are much more filling and substantial, and they are customizable.  Most importantly: they are so easy to make you will have no excuse to buy them ever again.
We are traditional cheese and pepperoni enthusiasts so that is what I included below but feel free to top them any way you want, the method is the same.
Pizza Bagel Bites
makes 24, prep 15 min, cook time varies, adapted from
Recipezaar
12 mini bagels, I used whole grain
8-12 oz mozzerella cheese, shredded or diced
8 oz pepperoni, chopped
1 cup pizza sauce, your favorite
Slice all of your bagels in half if they aren't already sliced.
Combine shredded cheese, chopped pepperoni, and just enough pizza sauce to hold the mixture together.  Add any additional toppings and season if desired with parmesan cheese, red pepper flakes, or salt.
Spoon about 2 tbsp mixture onto each bagel half (the holes will freak you out but pretend they aren't there, the mixture will hold its shape).
Place topped bagels in the freezer until frozen firm, then bag into freezer bags.
To Reheat: For crispy bagel bites bake the desired number at 450°F for about 15 min or for chewy bagel bites microwave them in 30 second intervals until hot about 1 min per bite.
Microwaving these is as tricky as the originals because the cheese wants to melt off.  I have had good success with doing one or two at a time in 30 second intervals but if you want to make a bunch use the oven or toaster oven.
Cost Analysis:
12 mini whole wheat bagels from bakery: $2.99
12 0z mozzerella: $3 (I used about 12 oz of cheese but I would even lower it to 8 oz next time)
8 oz pepperoni: $3.49
1 cup pizza sauce (tomato sauce, seasonings): $0.25
Total cost for 24 bagel bites: $9.73 or 41¢ per bagel bite
The bagel bites at the store are about 39¢ per bagel bite (box of 9 for $3.50) however mrChaos can eat an entire box of those and only about 5 of the homemade ones so I think $2 per serving vs. $3.50 wins.  Plus, the taste and quality is so so much better.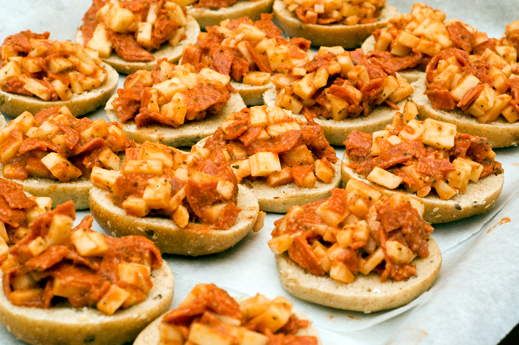 Posted in Budget, Easy, Snacks/Appetizers