February 23rd, 2009 by katie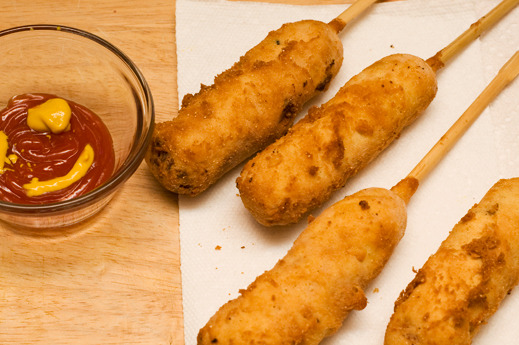 Blogging the Recession: Freezer food
See? I told you I would make food your kids will eat.  So first up in the make your own convenience food line-up: Homemade Corn Dogs.  Three reasons to make corn dogs yourself instead of buying them at the store:
They are cheaper-mine worked out to 26¢ per corn dog.
You control the quality of the ingredients.
They are awesomely delicious.  Like juicy and buttery and crunchy and fluffy and just incredible.
I like to have convenience foods around because on the days I work mrChaos is in charge of lunch and dinner and while he could cook, he would prefer not to.  Corn dogs are a fun and easy meal for him and the kids and only requires him to turn on the oven and cut up some fruit.  Frankly, I am quite jealous that they will be eating these without me.
It was a little labor intensive to make these from scratch, but mostly because I didn't know what I was doing.  I am not going to include a recipe here because you can use any corn bread batter you would like.  You can even use the Jiffy box and really cut the cost.  I followed this recipe for the dry ingredients. 
Thicken your regular cornbread recipe by adding the liquid (usually milk or buttermilk) to the rest of the ingredients a little at a time until you have a thick pancake batter consistency.  
Pour it into a tall drinking glass. 
Heat a pot of oil to about 375°F. 
Skewer your favorite, juicy beefy hot dog with a disposable wooden chopstick, pat it dry then dip it into the drinking glass, turning to coat completely. 
Immediately place battered dog into the hot oil, turning as necessary to brown all sides evenly.  It will only take a few minutes for the corn bread to cook and brown, remove and drain on paper towels.
If you have trouble getting your batter to stick, dip the battered dog into the hot oil for just a couple of seconds to set a thin layer of batter.  Allow it to cool a bit then re-batter it.  The second layer will stick much better.
Allow corn dogs to cool to room temperature then place on a baking sheet and freeze.  Once they are fully frozen, put them into freezer bags.  Reheat them at 400°F in the oven for about 20 min and serve with plenty of ketchup and mustard! 
The cost for these breaks down as follows:
2 packs (8 each) Beef Franks: $3.28 (on sale for $2.14 each with one $1 off coupon)
3/4 cup all natural preservative free local corn meal: $0.29
1 cage free large egg: $0.18
1 cup organic 1% milk: $0.47
pantry items not included in cost: 1 cup flour, 1/4 cup sugar, baking powder, bacon fat, salt, oil for frying
Total cost for 16 corn dogs: approximately $4.22
Of course only 13 corn dogs made it into the freezer, the baby and I polished off three for quality control.  If I hadn't bought the hot dogs on sale the total cost would have been $7.50, still a respectable 47¢ per corn dog.  Also, I probably would include some more of the pantry items in the total cost in the future but this was my first attempt and I couldn't track down what I had paid for some of the items.
My overall impression:  The first try was a lot of work, but I know I can do it more efficiently now that I have the hang of it.  Seriously, they were so good that I know I will be making more and probably even making double this amount the next time-they go fast!

Posted in Budget, Main Dish, Snacks/Appetizers