February 21st, 2009 by katie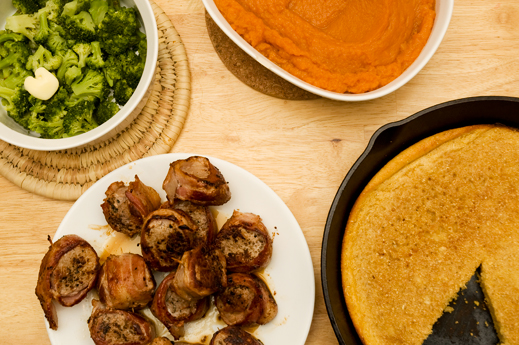 I am sorry for the silence this week, I have been busy behind the scenes setting up a new strategy for my posts.  I love the swing towards frugality that is going on in the food blogging community right now.  As the economy is only getting worse: food prices are skyrocketing and gas prices are once again creeping upward, I really appreciate everyone's efforts.  I will be participating in Hobo Mondays at TNS but really we are feeling the recession 24/7 in the chaos household.  So begins Blogging the Recession, a period in my blog life where we will be keeping strict track of the cost break-downs of our meals.  For example, beef and macaroni? Cheap.  Bacon wrapped Pork Tenderloin? Not Cheap.  Also, I will be highlighting homemade convenience foods (the best kind) since those are the real grocery store budget busters. 
Everyone loves a good cheap food event-for a couple weeks.  Then it's all rice and beans this and rice and lentils that.  Cheap food is boring and gross and my kids won't eat it and besides I can never find a chicken for 49¢ and I only buy gluten free soy free dairy free dye free grass fed shade grown food.  I hear you and I feel you.  I have no choice but to make food my kids will eat (try?) and they are normal kids who only want to eat chicken nuggets and hot dogs just like your kids.  I also feed 6 on most nights so if you have a big family no worries, if you don't even better, now you have leftovers for lunch the next day.  I also will not compromise on the quality of my food, I do buy organic meats and dairy products and certain fruits and vegetables.  You don't have to but I do, so the cost breakdowns will include the costs of those items which means it may be even cheaper for you.  I also buy my groceries at a local grocery store that takes coupons but does not double or triple them and that sells many locally produced items but no farmer's market and no Walmart means you may also be able to buy these things cheaper than I do.  I will include the cost breakdown of the entire meal which means the bacon wrapped tenderloin with sweet potatoes and broccoli and corn bread was a brazillion dollars and I am not even going to talk about it. Even. 
So what justifies cheap food vs. not cheap food?  I am not sure yet, unfortunately.  Beef and macaroni was $8.14 for 6 servings (w/grass-fed beef, organic veggies, semolina pasta) but Bacon Wrapped Tenderloin Feast was $22 before I stopped counting (although in it's defense it probably served 8 easily and was delicious).  My goal is to shoot to as close to $10 per meal as I can get, but we'll see.  This isn't Cheap Healthy Good so I am not including the cost of normal pantry items-to be determined by me and what's in my pantry.  I will include any exotic or unusual pantry items: for example, the locally produced preservative free cornmeal I bought that was $1.79 for 4 cups. 
But Katie, I come here for the good food! Why do you forsake me?  Hey, I want to eat good food too and I want to prove that it can be done on a budget.  At least the next time you see good food here you will know you can probably afford to make it.

Posted in Budget, Me, Pantry Challenge, Tips and Tricks