November 3rd, 2008 by katie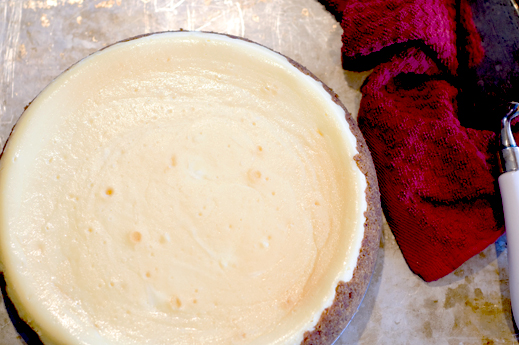 Daddy Chaos's mother used to work in a bakery doing all kind of wonderful bakery jobs, such as cake decorating and formulating recipes for delicious pies, cakes, and cookies. One of the recipes she created was a cheesecake that became THE cheesecake. THE cheesecake everyone wanted for their birthday, and Christmas, and pretty much any time. It was a secret recipe, but one she shared with me back when I was a pitiful new cook trying to keep her son fed on Hamburger Helper. I have made it dozens of times since then: for birthdays, parties, and holidays. It always elicits groans and moans and requests for the recipe. It is so easy and delicious-rich and creamy, not too sweet and with a light, fluffy texture. The recipe is no longer a family secret and has been shared over and over so I am happy to share it with you as well.
The Secret Family Cheesecake
makes 1 10 inch cheesecake, prep 10 min, cook time 1 hour, must chill overnight
20 oz cream cheese (2 1/2 bars)
1 3/4 cup sugar
2 tsp vanilla
3 eggs
3 tbsp cornstarch
2 cups whipping cream
1/2 tsp salt
2 tbsp lemon juice
graham cracker crust prepared in a 10 inch springform pan
Prepare a graham cracker crust in a large springform pan. Preheat oven to 325°F.
Using a stand mixer or high power hand mixer, cream the cream cheese, sugar, and vanilla together.
With mixer running add eggs one at a time, fully incorporating each one before adding the next. Scrape down the sides as needed.
Add cornstarch, cream and salt. Beat on highest speed for several minutes until batter is light and fluffy.
Stir in lemon juice.
Pour batter into crust and bake for 1 hour. Place a baking sheet under just in case it spills. This cake is huge and will rise up over the sides of the pan.
When the hour has elapsed, check the center of the cake with a toothpick, if it comes out clean turn the oven off and leave it for 30 minutes.
Crack the oven door and allow the cake to cool to room temperature in the oven.
Once cake is cool, place it in the refrigerator to chill overnight.
This cheesecake is huge and it rises very high before settling back down. The result is a rustic, homemade cheesecake with a lightly browned top, toffee crust and more than a couple of cracks. If you are truly upset by the cracks or the settling of the middle just fill it with a sour cream sauce, chocolate ganache, fruit filling, or whatever floats your boat. One warning though, the addition of all that stuff really detracts from the delicious simplicity of this cake. If anything at all, I like to serve it with only the simplest of fruit topping. Feel free to bake it in a water bath or other such nonsense but honestly I like the rustic, handcrafted look that makes this cake stand apart from it's freezer aisle counterparts.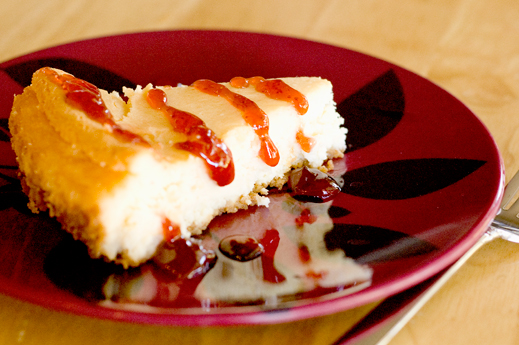 Feel free to make it ahead for a party or event: simply wrap it in wax paper or foil then in plastic and freeze. Thaw it in the fridge or at room temperature, the taste and texture will be as amazing as when fresh.
Related Recipes: