June 20th, 2008 by katie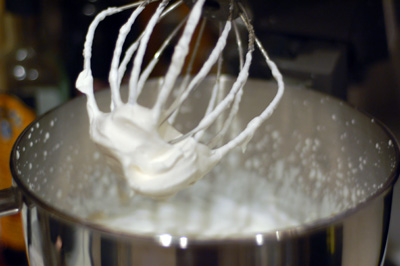 Real whipped cream is such a delicious and fancy touch to any dessert. For a long time I actually thought I didn't like whipped cream. It just didn't have any substance to it and I didn't like the aerated mouthfeel in combination with rich, dense desserts like ice cream or custard. I only recently realized what I didn't like was canned whipped cream. Don't get me wrong, I usually have a can in the fridge for impromptu Strawberry Shortcakes and Daddy and the kids like it on ice cream and other desserts. I just didn't care for it all that much. So, the other night I decided to make our shortcakes extra special by making real whipped cream with the kids. It didn't seem like it could be that hard and in fact it was so delightfully easy that I can't think of having it any other way now.
Whipped Cream
makes about 2 cups
1 cup heavy whipping cream
1 tsp vanilla
3 tbsp sugar
Combine all three ingredients in a bowl and using a mixer with a whisk attachment, whip until doubled in size and soft peaks form.
Soft peaks mean when you turn the mixer off and pull it out, the cream should stand up a little at that point and then fold over.