January 27th, 2009 by katie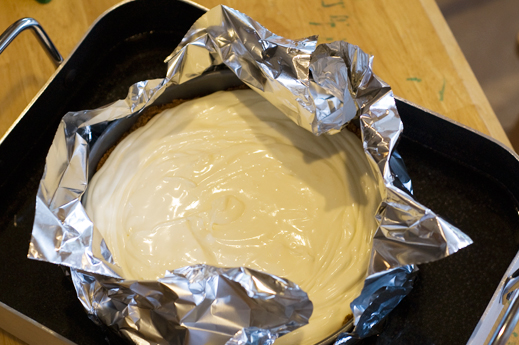 Our family cheesecake recipe has always been made sans water bath.  I have always heard nightmares about water baths: glass casserole dishes shattering, splashing boiling water on oneself, cheesecakes swimming in water where the crust should have been, etc..  So I never bothered with a water bath and, despite a few cracks, our cheesecakes have always been delicious, fluffy and um, delicious.  Not super pretty, but seriously when it tastes this good, who cares?
So over the holidays I decided to experiment.  Yes, I braved the water bath for you dear reader.  The verdict: easy, super pretty, very very moist cheesecake.  First, the easy part.  The water bath wasn't hard at all.  I think had I tried to do it in one of my shallow glass casseroles it would have been a different story.  You really need a good, deep roasting pan with nice handles for this.  Also, buy the 18 inch wide foil and use one continuous sheet rather than trying to wrap multiple sheets around the base.  The 18 inch sheets are wide enough to come up around the sides of the cake evenly.  This prevents any worries of leaking between sheets of foil.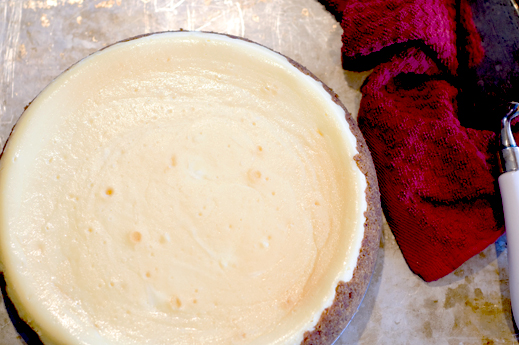 Second, the pretty part.  The resulting cheesecake was very pretty-smooth and white like the ones in the freezer aisle.  The only problem I have ever had with our usual method is the cheesecake comes out very brown, crusty at the edges, and generally cracked all over from the sides of the cake rising so high and then collapsing back down.  In fact the cheesecake was so smooth and white I had trouble deciding if it was cooked or not.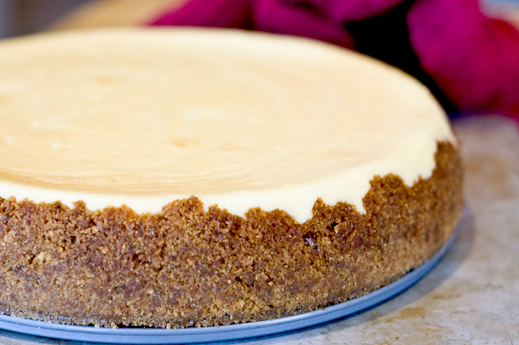 Lastly, the very very moist part.  The cheesecakes (I made two just in case) were very very moist and creamy.  In fact, for our family, they were too creamy.  The texture was the epitome of "melt in your mouth" and yet this cheesecake already melts in your mouth.  The texture was very different from the fluffy, light cheesecake we are used to.  It was more dense, more creamy.  I served these cheesecakes at two different family parties and the vote all around was that it was delicious-but next time make it the way we usually do.
Chalk it up to familiarity, taste, or the specifics of a recipe but we all agreed that the water bath wasn't necessary.  So if you haven't tried using a water bath but want to, go ahead and try it-it isn't hard and makes a beautiful, impressive cake.  But if you want permission to not use a water bath, then stop worrying about it.  This recipe doesn't need it to be any more creamy and moist anyway.

Posted in Tips and Tricks