June 19th, 2008 by katie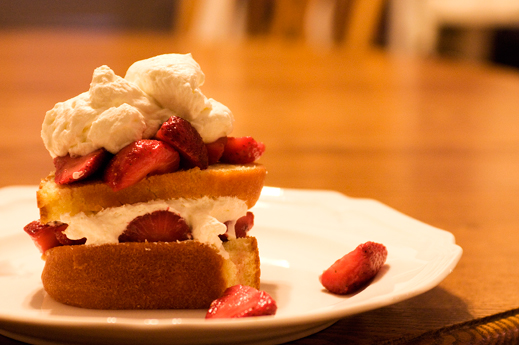 What do we make when strawberries are on sale? Strawberry Shortcake!
Strawberry Shortcake is probably the easiest "fancy" dessert you can make. That is assuming you are making it easy on yourself by purchasing the cake portion. And why not? There are plenty of delicious choices: frozen pound cake or biscuits, bakery angel food cake, or dessert/shortcake shells. When I was a kid, we used slices of pound cake. Daddy Chaos's family uses shortcake shells. The great thing is you can keep any of these in the freezer and whenever strawberries go on sale, you're ready to go.
Shortcake Topping
makes about 12 servings, make at least 1 hour ahead
2 lbs ripe fresh strawberries*

1 cup sugar

pinch of salt

water
Wash and slice your strawberries into bite sized pieces, pile into a bowl.

Mix in sugar and salt, don't be gentle you want to give them a little mash.

Let them sit for an hour or so, check the syrup that has formed and add a little water if you want to thin it out or make more.

Refrigerate until ready, will last a couple days. This is enough topping for a crowd or 2-3 nights of dessert.
*Awesome tip: use any combination of berries for this, fresh or frozen, and make a great cake or ice cream topping. Frozen mixed berries are great for this and much cheaper year round.
To construct your shortcakes just scoop topping onto cake then top with a generous dollop of whipped cream. Or shoot it with the canned stuff, then shoot some in each kid's mouth, and on the tip of their nose.