July 20th, 2008 by katie
Cutting a tomato was the bane of my existence. I came from a family that used tomatoes as condiments-slices on burgers or sandwiches, wedges with hotdogs or salads. I married into a family that uses tomatoes as condiments, but in the form of salsas, pico, and guacamole. I suddenly had to figure out how to transform a big squishy ball of liquid into tiny square pieces. I was miserable and embarrassed until someone finally explained to me this: planks then dice. The key to dicing, be it potatoes, peppers, onions, tomatoes or any other ingredient, is to first cut into planks (long vertical strips) then turn 90° and cut into squares.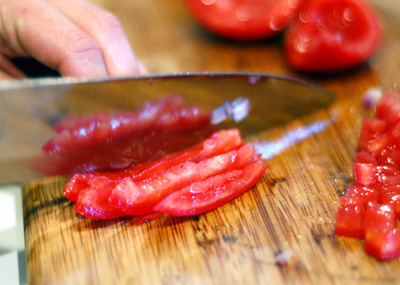 Tomatoes are unique because the seeds are so troublesome. When making sauces and other liquidy tomato based foods, feel free to keep the seeds for flavor and liquid content. For any dish you need diced tomatoes for, on the other hand, you want to seed your tomatoes first so you can work directly with the flesh. Quarter the tomatoes and scoop out the seeds using a spoon or your fingers. Then flatten the flesh against the cutting board and slice into several strips, about the thickness you want your final dice to be.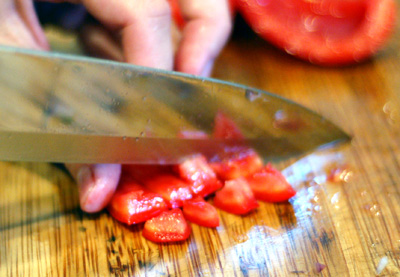 Finally, rotate your slices (planks) so they are horizontal and you are slicing the longer pieces into smaller uniform squares.
Follow along with the Knife Skillz Series.

Posted in Tips and Tricks