July 26th, 2008 by katie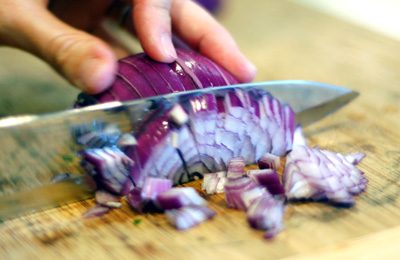 I am not sure what it is about onions that turns people off. Frankly, I love onions. Yet, I have found many people-especially husbands-who can't stand onions in their food. At the knife skills class we took recently it was the general consensus among the men that they did not want chopped onions in their food. The agreed upon solution amongst the women? Continue adding onions, but at a smaller dice so they couldn't be easily picked out. A bit passive aggressive, no?
Cutting an onion has long been a knife skills nightmare. First you spend forever peeling it, then it falls all apart while you are trying to chop it, and you can't even see what you're doing through the burning, stinging tears so the end result is a haphazard mish-mash of onion pieces and probably a little blood. But, like most things, there's a trick to dicing an onion. Once you see it, you'll be a master of the finely diced onion.
Save yourself the trouble of peeling the onion from the onset. First, cut off the top of the onion-not the root side, very important! Removing the end of the onion first allows the papery peel to come off much easier. It also allows you to see where to separate the paper and first layer of onion and to get a better grip on it.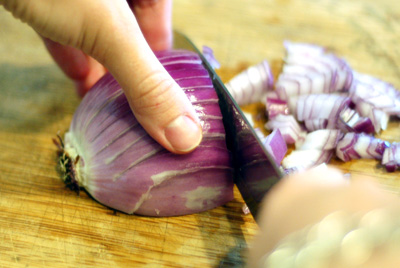 Next, slice your onion in half from the top through the root to give you a flat surface to rest the onion on. At no point do we cut the root end off the onion. The root is what is going to hold all of your onion layers together while you are chopping. Begin making vertical slices all the way through the onion but not extending past the root (see picture above). The thickness of these slices will determine how fine of a dice your onion comes out to, so as you practice try making the slices thinner and thinner.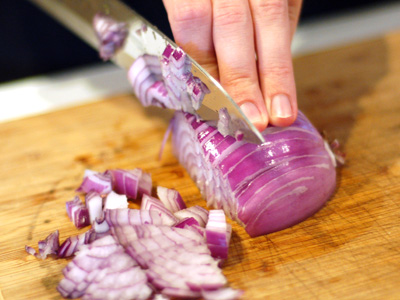 Once your vertical slices are in place begin slicing your onion across it's width, as though you wanted onion rings. Thanks to your root, you won't have to try to grip all of the pieces together while you are slicing. Watch as your vertical slices make your onions "rings" fall into a perfect dice! Remember the key to dicing is planks, then squares. Onions are great in that the planks are built in. Of course, if you really have to you could go back over your onion pieces and mince them even finer. Beyond that, you'll just have to breakout the grater or food processor.
Stay tuned for tips on how to keep the tears at bay!
Follow along the Knife Skillz Series.

Posted in Tips and Tricks