June 7th, 2009 by katie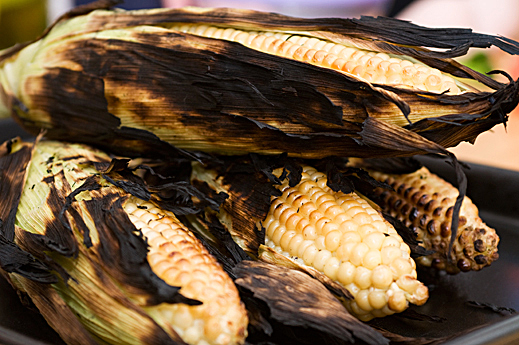 Nothing announces summer louder than the smoky wafts of backyard grills.  The smell of charcoal and meat permeates the neighborhood during late, dusky evenings and lazy weekends.  It is a nostalgic smell-like warm summer air, freshly watered lawns, and people coming together around a fire.  I absolutely love food cooked over the grill, nothing beats the smokey, caramelized flavors.
It can be a bit of a pain to get it going, so once we have the grill lit we try to make the most of it.  Grilled corn on the cob is a great summer treat and a super easy side dish!  Or, if it isn't grilling season where you are, just pop them under the broiler and be immediately transported to a warmer clime.
First, be sure to buy ears of corn that still have their husks and silk.  The husks will protect the corn and help steam the kernels while they are cooking.  There is a big debate in our house over whether you have to pull off the silk before or after roasting the corn: mrChaos peels the husks back carefully and pulls off all the silk, then pulls the husks back over the corn.  I say you don't have to do that.  The silks come off easily with the husks after the corn is finished cooking.  Also you don't bother soaking the corn.  The husks get pretty black but you aren't eating them and they give the corn a great smokey flavor.
Grilled Corn on the Cob
serves as many as you want, prep 0-5 min, cook time approx 20 min
Prepare your grill or pre-heat your broiler.
Place ears of corn onto grill or onto a baking sheet a few inches from the broiler.
Cook approximately 10 minutes, husks will turn black and smoke a bit.
Flip ears of corn over, try to keep them covered by their husks. Cook another ten minutes or until husks are black and the corn underneath looks plump and juicy.
Remove from grill or oven, allow to cool enough to handle with a dishtowel.
Remove husks, chop off ends, and roll in butter, squirt with lime, and sprinkle with salt, pepper, cayenne, or cotija cheese.
While you've got the grill hot, be sure to make extra and save it to add a smokey touch to other dishes like this salad or this one or this creamed corn.