September 22nd, 2010 by katie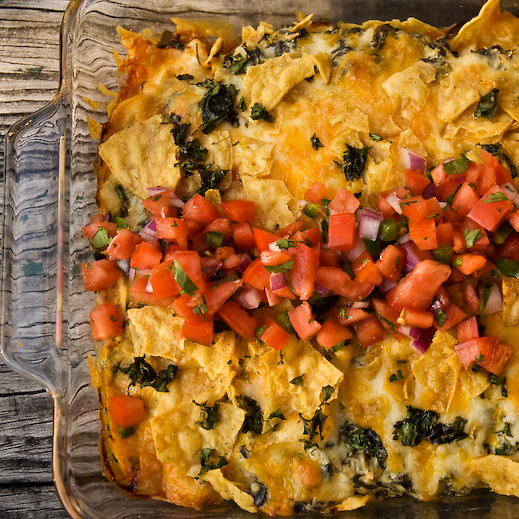 One of our most popular dishes at the chaos house is Chicken Casserole.  In it's essence it is a cheater version of King Ranch Chicken Casserole and I have made it many different ways.  My friend Nellie has a similar dish, except instead of Rotel and diced red peppers, hers uses spinach and jalapenos.  It is a delicious combination of sour cream, spinach, jalapenos, and cheese-it tastes almost like a spicy, jalapeno spinach dip.  Nellie's recipe calls for two cans of cream of chicken soup but I subbed in flour and chicken stock, so simply omit that step if you want to use the canned soup instead.  Also, here we serve this over rice and covered in fresh pico de gallo but you can serve it straight up if you like. 
Jalapeno Chicken Casserole
serves 12, prep 40 min, cook 30-40 min
2 tbps butter
1 onion, diced
3 jalapenos fresh, chopped
2 cloves garlic, minced
2 tbsp flour
20 oz chicken stock
salt and pepper, to taste
10-16 oz frozen spinach, thawed and drained
2 tbsp pickled jalapenos, diced
2 tbsp jalapeno pickling liquid
2 cups sour cream
4 green onions, tops only, diced
2 tbsp lime juice, or about 1 lime
1 large bag of tortilla chips
1 lb chicken, cooked and chopped
2-3 cups cheddar and Monterrey Jack cheese, shredded
fresh cilantro, chopped
Melt butter in a large pan over medium heat.  Pre-heat the oven to 350°F.
Saute onions, jalapenos, and garlic until soft.
Sprinkle flour over jalapeno mixture and cook for several minutes until golden.
Add chicken stock to pan and stir until smooth.  Cook, stirring often, until simmering and slightly thickened.
Season sauce with salt and pepper, to taste.
Meanwhile in a medium bowl, combine spinach, pickled jalapenos and liquid, sour cream, lime juice and green onions.
Add chicken stock mixture to sour cream mixture and stir thoroughly until mixed.
In a large pan, layer a handful of crushed tortilla chips, chopped chicken, and half of the sauce mixture. Sprinkle with half of the cheese.
Add another layer of crushed tortilla chips, and the rest of the chicken and sauce mixture.  Sprinkle with the remaining cheese.
Top casserole with another layer of crushed tortilla chips and sprinkle with fresh cilantro.
Bake casserole for 30 to 40 or until hot and browned.
Top with fresh pico de gallo, if desired, and serve over rice.