November 27th, 2009 by katie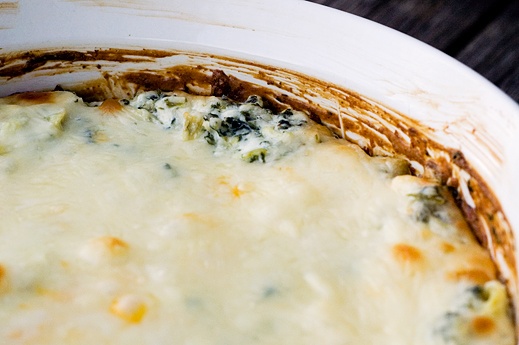 If there was ever a perfect crowd-pleasing dish to bring to a party or a potluck-this is it.  I don't even like artichokes in my spinach dip but here, combined with hot, creamy cheeses and plenty of chopped spinach, they are a fantastic addition.
Hot Spinach and Artichoke Dip
makes 8 cups, prep 10 min, cook time 30 min
2 blocks cream cheese (16 oz), room temperature
1 lb frozen chopped spinach, thawed
1 cup grated Parmesan cheese (can use half Romano)
1/2 cup mayonnaise
1/2 tsp garlic powder
salt and pepper to taste
1 can artichoke hearts, roughly chopped
8 oz mozzarella cheese, shredded (2 cups)
Thaw spinach and set your cream cheese out to soften in advance.  Once spinach is thawed place in the center of a clean dishtowel.  Bring up the corners and twist the towel above the spinach until the liquid is completely wrung out of the spinach.
Preheat oven to 350°F and grease a 2 1/2 quart casserole dish.
In a mixing bowl, combine softened cream cheese, Parmesan, mayo, garlic, salt and pepper.  Use a fork to get everything really well mixed and combined.
Stir in drained spinach and chopped artichoke hearts using your fork to break up any chunks.
Stir in half the mozzarella and pour the mixture into the baking dish.
Smooth the top and sprinkle with the remaining mozzarella.
Bake dip approximately 30 minutes or until hot and bubbly and brown at the edges.
You can halve this dip if you feel it is necessary but for a party I would double it.  It goes fast!  Serve with crisp pita or tortilla chips, toasted bread slices or hearty crackers.  Definately make this dip for a large party, your friends or co-workers will be glad you did.  Whatever you do, however, do not make this dip for snacking on the couch at home!  Unless, that is, you intend to eat the entire thing and call it dinner.  Not that we've done that or anything.

Posted in Easy, Snacks/Appetizers