May 25th, 2010 by katie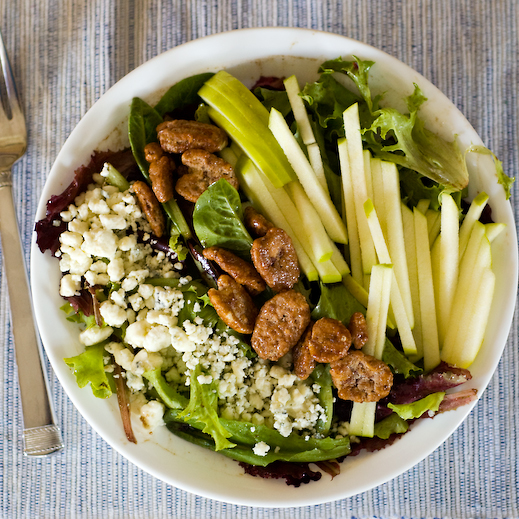 I LOVE this salad.  I could eat this salad combination for lunch or dinner, alone or as a starter.  It is an absolutely fabulous, luxurious salad-and that's not often said about a salad.  Everyone, in fact, loves this salad.  Even those who don't like blue cheese.  Or don't like pecans.  Or don't like salad.
I bought my candied pecans but if your store doesn't sell them (or doesn't sell tasty, crunchy ones) you can make them yourself, any candied or sweet nut will work (in fact, candied walnuts would be wonderful).  Also if you aren't a big blue cheese fan, I suggest getting the Gorgonzola-it is much milder than your typical blue cheese. 
Apple, Pecan and Gorgonzola Salad
serves 4, prep 10 min
1 large granny smith apple
1 wedge of lemon or lime, about 1 tsp juice
8-10 cups loose baby greens
1/4-1/2 cup vinaigrette
1 cup candied pecans, crushed
1 cup crumbled Gorgonzola or blue cheese
Chop your granny smith apple into thin match sticks.
In a small bowl or sandwich bag, add 1 tbsp of water.  Squeeze a lemon or lime wedge into the water. Add apple sticks to the water as you chop to keep them from turning brown.
In a large salad bowl, toss greens with enough dressing to coat.  Start with 1/4 cup and increase as desired.
Portion salad into individual bowls or plates.
Arrange 1/4 of apples, pecans, and cheese over the top of each plate of greens.
Serve.
This is a great vinaigrette.  Don't be fooled by the name, it isn't very sweet or mustardy.  I find it is just tangy and sweet enough for my tastes and goes really well with almost any salad combination.  It would go great on this strawberry salad or this salad or this one, as well.
Honey Mustard Balsamic Vinaigrette
makes a little over 1 cup of dressing, prep 10 min
1 tbsp honey
1 tbsp mustard
1 small shallot, minced
1/4 cup balsamic vinegar
3/4 cup olive oil
salt and pepper to taste
Combine all ingredients in a small, lidded jar, shake vigorously to combine.

Posted in Easy, Fast, Salads, Things I Love