June 24th, 2009 by katie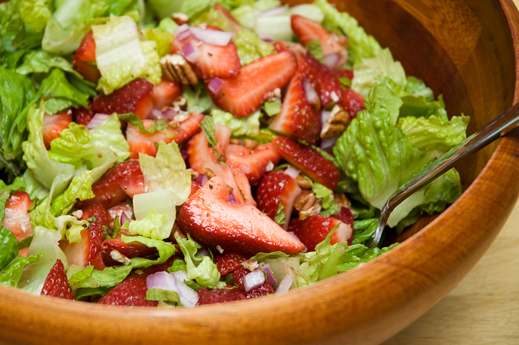 This is one of my favorite summer dishes.  A bright, seasonal salad, this is the first salad that ever bridged the gap between fruit and lettuce at my house.  It seemed a far divide but with the right recipe, it turns out it wasn't such a big leap after all.  I have posted about this salad before, having originally had it with a sweet onion dressing.  We've made little additions here and there over the last year, finally coming to the recipe we had last night.  I LOVED the strawberries we ate paired with balsamic vinegar and mint and I wanted to bring those flavors to this salad.  To make the original, omit the mint and serve with the sweet onion dressing instead of adding onion to the greens.  Both salads are great but I'd have to say this version is a little more grown-up, a little more complex.  The original is great for a crowd or a party or for introducing someone to something new.
Strawberry Salad with Balsamic Vinaigrette
serves 4, prep 15 min
2 cups salad greens, I used romaine torn into bite sized pieces
2 lbs strawberries, quartered
2 tbsp mint, chiffonaded (or finely chopped)
1/4 red onion, sliced
1/2 cup pecans, chopped
2 oz. olive oil
3 oz. balsamic vinegar
1 tsp sugar
salt and pepper
Combine greens, strawberries, mint, onion, and pecans.
In a small bowl or jar combine oil, vinegar and sugar.  Taste and adjust to your likes, and salt and freshly ground black pepper.
Combine dressing with salad as desired.