December 13th, 2009 by katie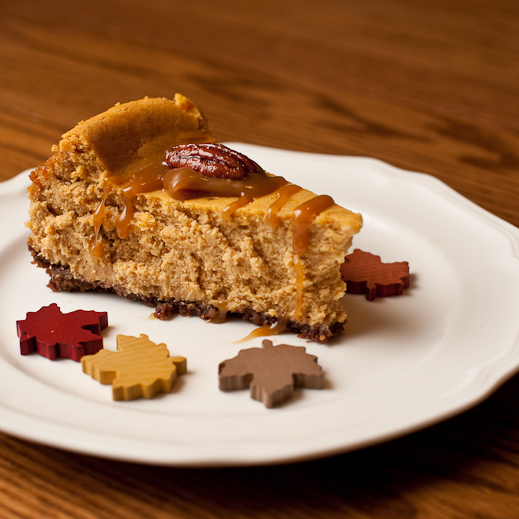 We couldn't decide between cheesecake or pumpkin pie and while I would generally just make both, Pumpkin Cheesecake just seemed like the perfect solution! This cross between a creamy, fluffy cheesecake and a spicy pumpkin pie goes great over a pecan crust topped with caramel sauce and candied pecans.
Pumpkin Cheesecake
prep 10 min, cook 1 hour 30 min, adapted from
our family recipe
16 oz cream cheese (2 bars)
1 cup pumpkin
1  cup sugar
3/4 cup brown sugar
2 tsp vanilla
3 eggs
3 tbsp cornstarch
1 tbsp pumpkin pie spice
1 1/2 cups whipping cream
1/2 tsp salt
2 tbsp lemon juice
pecan crust or graham cracker crust prepared in a 10 inch springform pan
Prepare crust in a large spring form pan. Preheat oven to 325°F.
Using a stand mixer or high power hand mixer, cream the cream cheese, pumpkin, sugars, and vanilla together.
With mixer running add eggs one at a time, fully incorporating each one before adding the next. Scrape down the sides as needed.
Add cornstarch, pumpkin pie spice, cream and salt. Beat on highest speed for several minutes until batter is light and fluffy.
Stir in lemon juice.
Pour batter into crust and bake for 1 hour. Place a baking sheet under just in case it spills. This cake is huge and will rise up over the sides of the pan.
When the hour has elapsed turn the oven off and leave it for 30 minutes.
Crack the oven door and allow the cake to cool in the oven about 30 minutes, then move to the counter to cool completely.
Once cake is cool, place it in the refrigerator to chill overnight.
You can bake this in a waterbath if that's your thing.  We actually like the fluffy texture of the cheesecake without the waterbath but it does develop cracks.  So if cracks bother you, feel free to change it up.
Pecan Crust
prep 5 min, cook 8 min
2 1/2 cups finely ground pecans
1/3 cup brown sugar
1/4 tsp pumpkin pie spice
1/4 cup melted butter
Grind pecans in a food processor or buy ground pecans.
Combine all four ingredients in a bowl until completely mixed (if you used a food processor in step 1 you can add the other ingredients to the food processor bowl and pulse to mix).
Pat onto the bottom and up the sides of a spring form pan.
Bake crust at 350°F
Making the candied pecans is really easy (and they're really good!) but feel free to buy them at the store.
Candied Pecans
makes 1 1/2 cups, prep 10 min, cook 15 min, adapted from 
Bon Apetit, September 1999
Nonstick oil spray (not necessary if you use a Silpat)
3 tablespoons light corn syrup
1 1/2 tablespoons sugar
3/4 teaspoon salt
1/2 teaspoon pumpkin pie spice (or any spice combination you like)
1 1/2 cups pecan pieces
Preheat oven to 325°F. Spray a rimmed baking sheet with nonstick spray or use a Silpat.
Combine corn syrup, sugar, salt, and pumpkin pie spice in large bowl. Stir to blend.
Add pecans to the mixture and stir gently to coat. Pour mixture out onto prepared baking sheet.
Place a large piece of foil on your work surface. Bake pecans 5 minutes.
Using a fork, stir and flip the pecans to coat in the sugar mixture. Continue baking until pecans are golden and coating bubbles, about 10 minutes.
Use your fork to quickly separate and transfer the pecans to the foil. Cool pecans completely before tasting (they'll hurt your teeth)!
These are great made ahead.  Store them in an air tight container so they don't get sticky.  Enjoy them over the next couple of weeks in desserts and salads!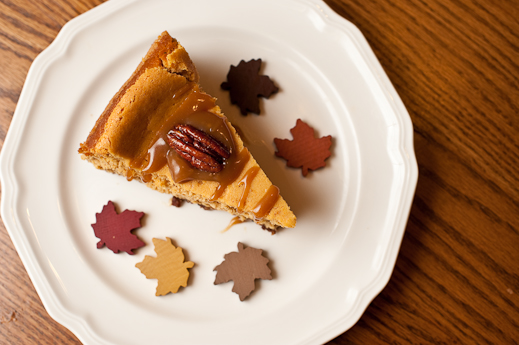 Posted in Desserts