August 24th, 2008 by katie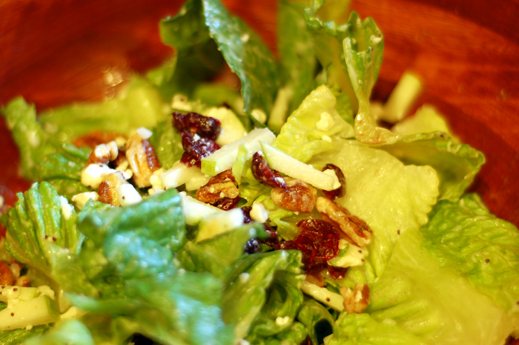 Tart, tangy, sweet and sour. This salad has so much going on: from the salty, creamy feta to the crunchy nuttiness of the pecans to the sweet/sour notes of the chewy dried cranberries, crisp green apples and poppy seed dressing. Thanks to Jacqui for suggesting this combination and the dressing to match with it. I tried and tried to find a poppy seed dressing recipe I felt comfortable making from scratch until, finally, I figured I would never get around to making the dang salad if I had to make the dressing as well. So I caved and bought the brand Jacqui recommended. It is light and tangy with a tart sweet and sour match to the rest of the flavors in the salad. The bottle says it's delicious on peaches and I am so thrown by even the suggestion of eating peaches with salad dressing that I might just have to try it.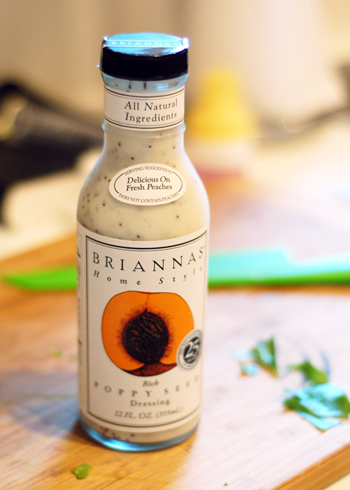 Anyway, about that salad… I am not a huge fan of sweet and sour combos, however the earthiness of the nuts and creaminess of the feta cut through the sour notes and balance it just enough to keep it interesting.
Green Apple Salad
prep 5 min
salad greens, Jacqui recommends romaine or spinach
dried cranberries
crumbled feta cheese
pecans, chopped
green apple, cut into matchsticks
poppy seed dressing
Toss your salad ingredients as desired with a little of the poppy seed dressing. Unlike many dressings, I have found 1 tbsp to be perfect for a 1 person salad. This is a great, interesting lunch or side salad. It travels pretty well also, just be sure to add your apple slices just before tossing the salad in the dressing so they don't turn brown.
Any more salads you recommend before the end of summer?
Photo Update: Homemade Rice-a-Roni

Posted in Easy, Fast, Reviews, Salads, Sides, Snacks/Appetizers