April 20th, 2010 by katie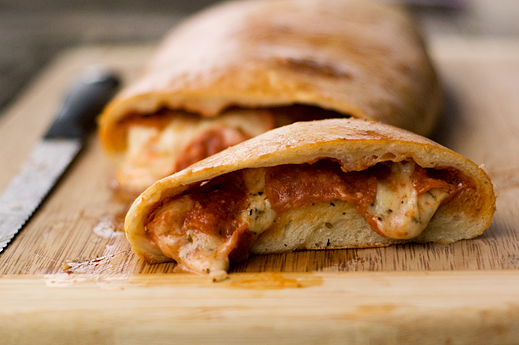 My love affair with pizza will never end.  Probably because everyone loves pizza, and everyone is excited when the answer to "what's for dinner?" involves pizza-anything.  Pizza bread is a super easy snack or lunch, or even dinner alongside a big salad.
There really is no recipe for this so I will just tell you how to make it.  Roll bread or pizza dough into a large rectangle. Spread a thin layer of pizza sauce over it, cover with pepperoni (or whatever pizza topping you like-sausage, olives, etc), mozzarella cheese, Parmesan cheese, and a sprinkle of Italian seasoning.  Roll the dough up and pinch the seams closed.  Bake the loaf, seam side down, for about 30 minutes on 400°F.
Done. You are now the life of the party.
A few tips:  You can buy bread and pizza dough at the store either refrigerated or frozen.  If you buy frozen dough, let it thaw before trying to roll it out.  If you make your own dough, use about a 1 pound loaf.  Also, brush the top of the loaf all over with a beaten egg just before baking to make it glossy and brown.

Posted in Easy, Fast, Snacks/Appetizers