October 30th, 2009 by katie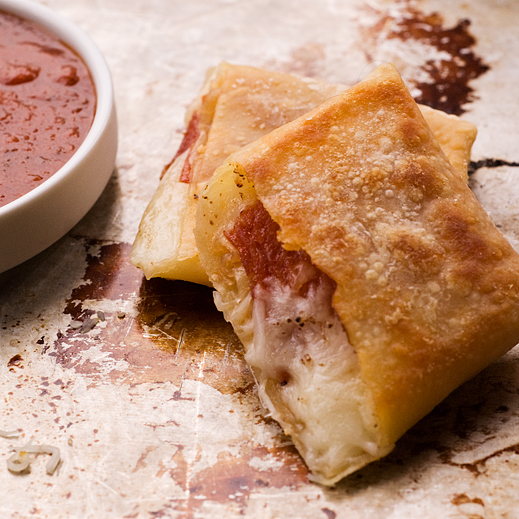 Here's a fun trick.  Combine a package of egg roll wrappers with your favorite pizza toppings and serve with warm pizza sauce on the side.  These are a great snack or party food-you make them ahead of time and simply reheat them in the oven when you want them.  You can stuff them with any flavors you like-supreme pizza with sausage, peppers, mushrooms, etc.. or even buffalo chicken dipped in blue cheese dressing.
Pizza Egg Rolls (or any flavor egg rolls)
makes as many as you like, prep 10, cook 10-15 min
1 package egg roll wrappers (usually refrigerated in the produce section of the grocery store)
any combination of filling ingredients you like
water
a matching dip
Preheat oven to 400°F.
Lay egg roll wrapper on your workspace like a diamond.
Place about 1/3 cup of filling ingredients in the center.
Dip you index finger in water and wet the edges of the wrapper.
Fold the bottom corner up to make your diamond a triangle.
Fold the side corners in and roll the egg roll up to the top to seal.
Repeat for all remaining egg roll wrappers.
Spray a cookie sheet with oil and place egg rolls seam side down on the sheet and lightly mist the tops with oil.
Bake rolls 10-15 min, turning half way, or until golden brown on both sides.
Serve with dip or allow to cool, then place in freezer bags and freeze.
The reheat from frozen, bake for approximately 10 minutes at 400°F.
You can also deep fry them on step 9 at 375°F until golden brown but-between the oil, pepperoni and cheese-I found them way too greasy.  I am not usually afraid of a little grease but I felt like I needed a shower after eating a few of the fried ones.  The baked version is just as crispy on the outside and much more pleasant to eat.  You may have to experiment a little with the reheat time from frozen depending on your filling ingredients.  I made some with mushrooms, fresh basil, and cheese and they were a little cool in the center at 10 minutes.
And, yes, you can make these with the pizza sauce on the inside and they are very good but we really preferred dipping them into the sauce.

Posted in Easy, Fast, Snacks/Appetizers