April 14th, 2010 by katie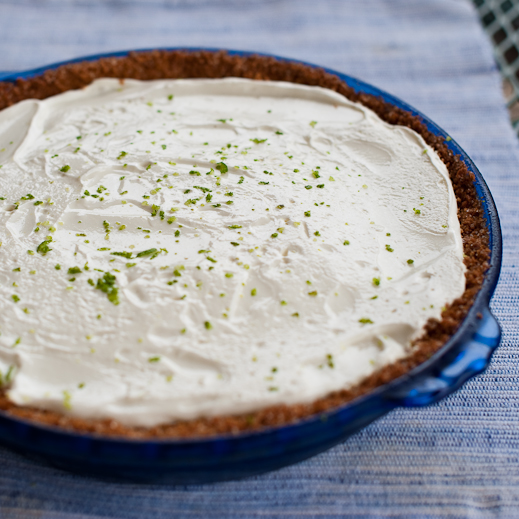 Chocolate is great.  I mean, really great.  But it's the lip puckering sweetness of sour citrus desserts that really gets me going.  Lemon meringue pie? Yes, please.  Lemon cream pie?  Absolutely.  Lemon cake? Get in my mouth.  So is it any wonder that Key Lime Pie would be a dessert of choice?
My mom made me this pie and it couldn't be an easier dessert.  You can follow this recipe to make a graham cracker crust or you can purchase one.  If squeezing limes isn't your thing you can buy bottled key lime juice, but if you really love citrusy desserts, like I do, invest in one of these hand held juicers
.  It makes quick work of squeezing a bag of limes.
This pie is sweet and sour and creamy and cool and just perfect for summer.
Key Lime Pie
prep 30 min , cook 35 min + chilling time, adapted from
Emeril Lagasse, Emeril Live, 2002
1 1/2 cups graham cracker crumbs
1/2 cup granulated sugar
4 tbsp butter, melted
2 (14-ounce) cans sweetened condensed milk
1 cup key lime juice (about 2 lbs)
2 eggs
1 cup sour cream
3-4 tbsp powdered sugar
1 tbsp lime zest
Preheat the oven to 375°F.
Mix graham cracker crumbs, sugar, and butter in a medium bowl.
Press the mixture firmly into a 9-inch pie pan, and bake until brown, about 20 minutes. Remove from the oven and allow to cool to room temperature before filling.
Lower the oven temperature to 325°F.
In a separate bowl, combine the condensed milk, lime juice, and eggs. Whisk until well blended and pour the filling into the cooled pie shell.
Bake 15 minutes, then chill at least 2 hours.
Once chilled, combine the sour cream and powdered sugar and spread over the top of the pie using a spatula.
Sprinkle lime zest over the top of the pie and serve.
I would make this pie the day before you want to serve it to give it plenty of time to chill.  Just cover it with plastic wrap and refrigerate until ready.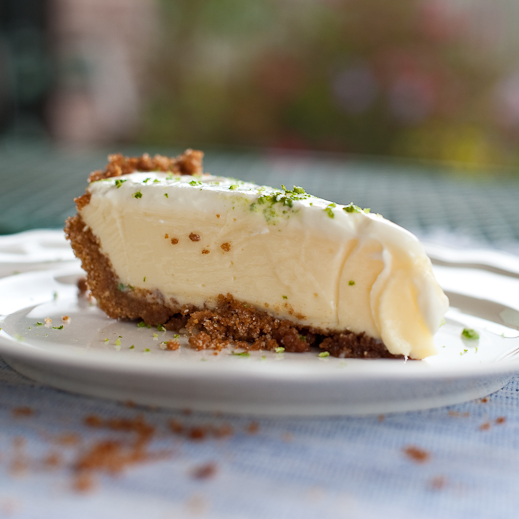 Posted in Desserts