May 6th, 2009 by katie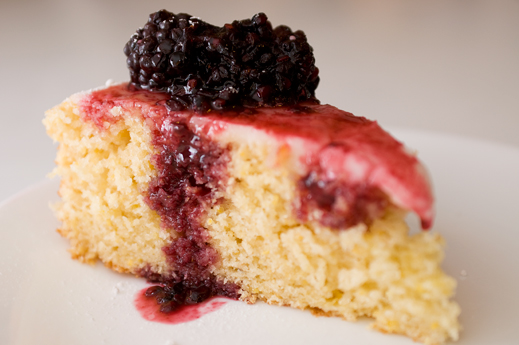 I have had this recipe bookmarked for ages, it feels.  It has really only been a month or so but I felt like I would never get to try it out.  It isn't a celebratory type cake and but it is a special, grown-up dessert.  The cake itself isn't very sweet with a fluffy, cornbread-like texture.  The glaze is lip-puckering sweet and sour but it is the sauce that brings it all together.  Slightly sweet with big berry flavor, it lends some extra sweetness and moisture to the cake and offsets the lemony glaze. 
Despite the long list below, this cake, glaze, and sauce are all very easy and pretty quick to put together.  It looks very impressive and is a nice light tasting-dessert to serve to guests.  Plus every single ingredient was already in the pantry, so it's like free cake!
Lemon Cornmeal Cake with Blackberry Sauce
serves 12, prep 15 min, cook 40 min, adapted from
Bon Apetit, April 2009
1 1/2 cups flour
1/3 cup cornmeal
3/4 cup sugar
3 1/2 tsp baking powder
1/2 tsp salt
1 cup buttermilk
2 eggs
1 tbsp lemon zest (2 large lemons)
1 tsp vanilla
1/2 cup (1 stick) butter, melted
For the Glaze
1 1/2 cups powdered sugar
1-2 tbsp fresh lemon juice
For the Sauce
2 cups blackberries
1/2 cup brown sugar
2 tsp fresh lemon juice
pinch of salt
Preheat oven to 350°F.  Grease a 9 inch baking round, also line the bottom with parchment. Don't skip this step like I normally do, my cake tried to stick mightily.
Combine flour, cornmeal, sugar, baking powder, and salt in a large bowl.
Combine buttermilk, eggs, lemon zest, and vanilla in another bowl.  Add melted butter once cool enough to not cook your eggs.
Pour liquids into flour mixture and stir until just combined.
Pour into greased, lined cake pan.
Bake for about 30 minutes or until tester comes out clean from the center.
While the cake is baking, make the glaze by combining powdered sugar and lemon juice.  If mixture seems too thick allow to rest for several minutes.  If it is still too thick add small amounts of lemon juice, milk, or water until thin. You want it to be thick but pourable, it will smooth itself out over the hot cake, so err on the thick side.
Make the blackberry sauce by combining 1/2 the black berries and the other sauce ingredient in a saucepan.
Heat the pan over medium heat and stir until combined.
Allow mixture to simmer until berries get soft and liquid thickens a little (it doesn't get very syrupy) about 10 minutes, stirring occasionally.
Add remaining berries and crush them gently with a spoon.
Chill sauce until ready to serve (it will be thicker cold).
Once cake has finished baking, remove to a rack, then use a second rack to flip the cake right side up.
Spread or pour the glaze over the hot cake and allow it to cool on the counter.  The glaze will settle in the center of the cake, you can spread it towards the edges and allow it to run over a bit. 
Once cake is cool, slice and serve with a large spoonful of sauce.
Cost Analysis: Again, every single one of these ingredients would be in the typical baker's pantry.  I got the blackberries for $1/pound but there is a bush in my yard that would have yielded as much.  So my vote is: free cake.

Posted in Budget, Desserts, Easy, Pantry Challenge