December 1st, 2008 by katie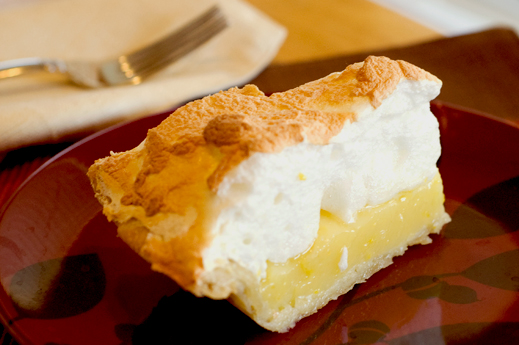 I have been making this Lemon Meringue Pie for a few years now and it has become a family favorite. The creamy lemon curd is just sour enough and the fluffy vanilla meringue is light and sweet. Lemon pie is refreshing in the summer but it's lightness also makes it a great holiday dessert eaten after any one of the big feasts. When I first attempted this pie I used Alton Brown's recipe and method. The pie tasted delicious but it never set and it was a lot of work! So I changed the method to be a one pot recipe (you do make the meringue in a separate bowl) and now I don't have to worry about my egg yolks curdling or having my pie set up properly.
This is a great, easy from scratch pie that is delicious and impressive! It is my most requested pie and I make it several times a year.
Old Fashioned Lemon Meringue Pie
prep 10 min, cook 10 min, chill over night
1 prepared and baked pie crust
1/3 cup cornstarch
1 1/3 cup sugar
1/4 tsp salt
1 1/2 cup water, divided, boil 1 cup
1/2 cup lemon juice
4 eggs, divided
3 tbsp butter, chopped into bits
1 tbsp lemon zest
pinch cream of tartar
2 tbsp sugar
1/2 tsp vanilla
Prepare and bake a single pie crust. Heat oven to 375ºF.
In a medium saucepan (without heat) combine dry ingredients, cornstarch, sugar, and salt.
Add 1/2 cup cold water and lemon juice, whisk to combine until smooth.
Beat egg yolks thoroughly and add to liquid in pan.
Boil remaining cup of water and add to pan, whisking until smooth. Turn on heat to medium high.
Bring mixture to a boil, stirring constantly. Once thick, turn heat to medium and simmer, stirring constantly, for another minute or until well-gelled.
Remove from heat and stir in butter and lemon zest. Pour into pie shell.
Beat egg whites with a pinch of cream of tartar until soft peaks.
Add sugar and vanilla, continue beating until stiff peaks.
Spread meringue over hot filling all the way to the crust.
Bake pie for 8 to 10 minutes or until meringue is golden.
Cool on a wire rack until room temperature then chill over night in the fridge.
If you have extra egg whites sitting around you can add them for an even bigger meringue. I added the leftover egg whites from the chocolate pie to this one and it made a lovely pillowy meringue, but it's not necessary to crack extra eggs just for this. The original four make a nice thick layer-the perfect offset to the tangy pie, especially if you have non-meringue lovers around. Although if they are like me this pie will change their mind!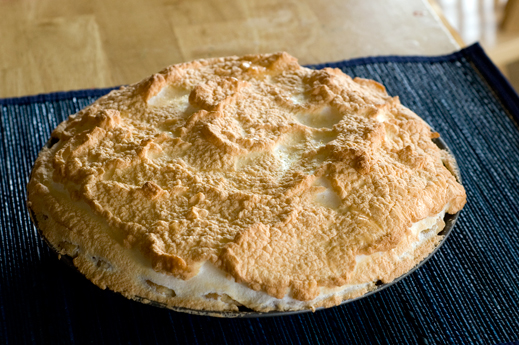 Posted in Desserts, Things I Love