January 10th, 2010 by katie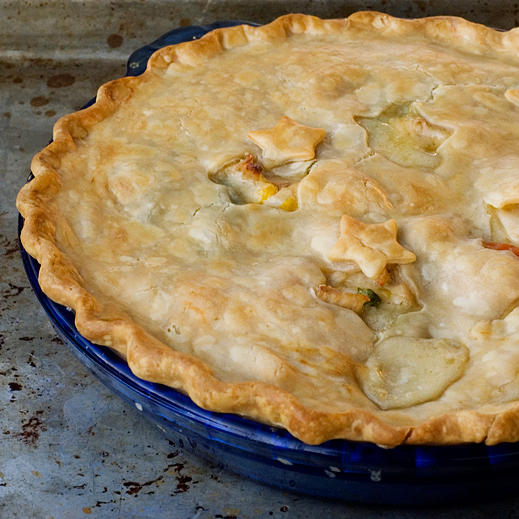 I recently updated my chicken pot pie recipe.  Go check it out. 
Chicken pot pie has always been my go to pantry recipe.  It consists almost entirely of things I keep on hand so it is perfect for stretching the days between trips to the grocery store.  I keep pie crusts, vegetables, and usually some form of cooked or uncooked chicken in the freezer.  If you don't have or can't make the pie crusts you can serve this delicious chicken gravy over rice or noodles or make it into a soup, or top it with with biscuits or dumplings.
The key to any good pantry challenge recipe is to be able to use what's on hand.  Pretty much the only ingredients you must have for this are flour, milk, and chicken broth or the ability to make chicken broth (i.e. chicken bones, meat, or bouillon cubes).  The rest is whatever bits of meat and veggies you have on hand.  Serve with a starch-rice, bread, potatoes, noodles, etc-and you have one of my favorite comfort foods.
Chicken pot pie also freezes wonderfully both before or after baking-you don't even have to thaw it just put it right in the oven frozen.  You can also freeze the filling separately if you aren't sure how you want to serve it.

Posted in Budget, Easy, Main Dish, Pantry Challenge