October 4th, 2009 by katie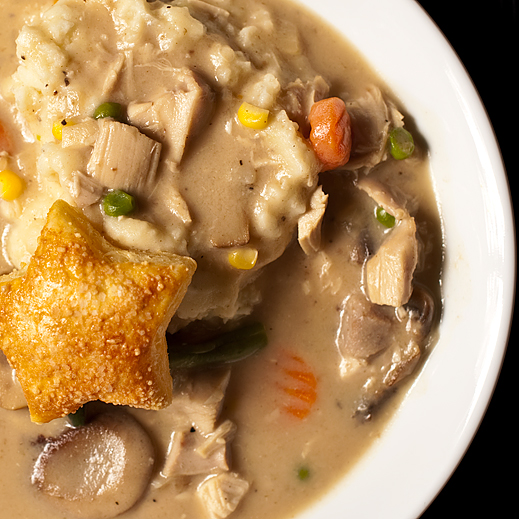 Oh man, oh man, I can't wait til it gets cold at your house because you are going to love this.  Think about a ladle of steaming gravy, roasted chicken, and tender vegetables spooned over a mound of creamy potatoes.  The potatoes melt into the hot soup, swirling throughout the bowl.  Comfort food.  For realz.
I always use frozen vegetables when I make pot pie.  The day I buy a bunch of fresh veggies is the week I never get into the kitchen to cook anything.  I love frozen vegetables but I don't like the frozen mixed vegetables, I buy each individually.  Instead, I buy the thinnest young beans, petite sweet peas, and crinkle cut carrots-all from the freezer aisle.  Feel free to use any combination of veggies for this, or even the mixed veggie bag, this is just the way we like it.  Frozen veggies are usually par-cooked and just need to be warmed up in the soup.  If you use fresh vegetables consider cooking them before adding them to the soup.
For those of you who are worried that pot pie over mashed potatoes is too much starch: think a bowl of mashed potatoes and gravy-heavy on the gravy-with some tender chicken and vegetables scattered over it.  We didn't find it too starchy at all.

Chicken Pot Pie Soup
serves 6, prep 10 minutes, cook 40 minutes adapted from
Chicken Pot Pie
1/2 cup butter
8 oz mushroom, sliced
1/2 onion, diced
2 garlic cloves, minced
1/2 cup flour
3 cups chicken stock
2 cups milk
3 cups cooked chicken meat
1/2 cup frozen crinkle cut carrots
1/4 cup frozen green beans
1/4 cup frozen peas
1/4 cup frozen corn kernels
salt and pepper
Melt butter in a large soup pot.  Add mushrooms a handful at a time, lightly browning each batch then pushing them to the sides and adding the next handful to the center.
With the last batch of mushrooms, add onion and garlic.
Saute mixture until onion and garlic are soft. Sprinkle flour over mushroom mixture.  Stir and cook several minutes until flour is golden.
Add chicken stock and milk and heat to a boil.
Simmer soup, stirring frequently until thickened.
Add chicken and frozen vegetables, heat soup until hot, stirring occasionally.
Salt and pepper to taste, serve over a scoop of mashed potatoes.
Serve with biscuits or shapes cut out of pie crust or puff pastry (or you could forget the potatoes and serve in a bread bowl).  If you store or freeze the soup be sure to store it separate from the mashed potatoes.  Otherwise, when you reheat the soup the potatoes will melt completely and throw off the texture.
Puff Pastry Stars
makes 9+, prep 5 min, cook 15 min, thaw pastry 40 minutes
1 sheet puff pastry
1 egg, beaten
grated parmesan cheese
salt
Thaw a sheet of puff pastry for 40 minutes at room temperature. Preheat oven to 350°F.
Unroll and cut into small shapes with a knife or cookie cutter.
Place on a baking sheet and brush with beaten egg.
Sprinkle each shape with grated cheese and salt.
Bake 15 minutes.
I usually use leftovers or buy a rotisserie chicken at the store when I know I am going to make a pot pie, but today! at the store! no rotisserie chickens!  So for this one I grabbed a fresh chicken (Is it just me or do raw chickens feel like newborn babies to anyone else??) and did a no-fuss roast chicken instead.  You can also quickly poach a few chicken parts in water or broth.
Simple Roast Chicken
prep 5 min, cook time 60 minutes
Preheat oven to 450°F.
Place chicken in a roasting pan and sprinkle with a palmful of salt.
Roast chicken for about 60 minutes or until juices run clear.
This is actually a pretty quick weeknight meal despite the length of this post.  Set your puff pastry out to thaw.  Peel and chop your potatoes and set them on to boil.  Start the soup.  While the soup is simmering, cut the puff pastry shapes and put them in bake.  When the soup is done, keep hot and mash your potatoes.  Done.