September 16th, 2008 by katie
This post was written a couple of weeks ago before Hurricane Ike took down our power and took out our stores of frozen and refrigerated foods.  It is a the first of a series on preparing meals from ingredients already on hand.
Welcome to the Pantry Challenge! Anytime the grocery budget runs dry before payday, whether it be days or weeks, it's time for a pantry challenge. The pantry challenge basically consists of making tasty meals out of all the stuff you've already got in your pantry, fridge, and freezer, without running to the store for a bunch of new ingredients. You can approach the Pantry Challenge as an emergency guide when there is an unexpected expense that eats up the grocery budget prematurely or as a list of great items to keep on hand that will yield dinner under any circumstances.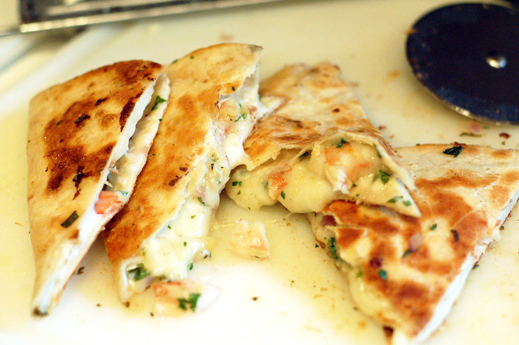 If you are like me, chances are you have all kinds of stuff hanging out in your cabinets and freezer, and in the back of the fridge and the floor of the closet, and probably the garage and the trunk of the car as well. Most of this stuff was bought with a purpose in mind, a purpose that fell to the wayside due to your busy life. Now it's just odds and ends and embarrassingly useless ingredients. Now it's days till payday and there's no money for take-out or even a run to resupply. You've got to figure out how to make a dinner out of all this stuff.
Usually you will have a particular ingredient in mind-whether it's the half of a container of sour cream in the back of the fridge or the last three tortillas going stale in the breadbox-to build your meal from. In my case it was the tortillas. I knew there were three giant burrito sized flour tortillas in the pantry that had been there, leftover, for weeks. I knew if we didn't use them soon they'd be trash, but what does a family of five do with three tortillas? I did a quick food blog search for "quesadillas."
As I browsed the recipes, I thought about the proteins currently on hand: deli meats, some frozen chicken breasts, fish fillets, etc… I remembered there was half of a bag of frozen cocktail shrimp somewhere in the freezer, which led me to Simple Recipes' Shrimp Quesadillas recipe. So I didn't have most of the ingredients Elise calls for in her posted recipe, but I knew I had tortillas (check!), shrimp (check!), cheese (check!), and various tex-mex condiments (check! check!). So shrimp quesadillas were on.
Part of the challenge of the pantry challenge is the fact that rarely will you have all of the ingredients a recipe calls for. So you have to wing it. In my case, I had cilantro but no peppers, no green onion, no avocado, no Monterrey jack. Because of my huge small wine and cheese obsession hobby I knew I had some Asadero cheese which would be a great substitute. I also always keep garlic, onions and bottled lime juice on hand. A recipe was forming…
I offer you:
Shrimp Quesadillas
makes 3, prep 20 min, cook 20 min
1/2 lb medium shrimp, peeled, deveined, and cooked
1 tbsp lime juice
1/4 cup cilantro, chopped
1 clove garlic, minced
1/4 red onion, chopped
6 oz Asadero cheese, or other Mexican melting cheese
Flour Tortillas, Burrito size
butter, oil or better butter
Start with your shrimp. Prepare and cook them or, if you keep them already cooked and frozen, thaw in a bowl of cold water. It doesn't take long, in the time it takes you to chop your cilantro, garlic and onion they will be done.
Give your shrimp a rough chop and add to a bowl with the cilantro. Splash with lime juice, salt and pepper.
Heat your skillet or griddle over medium-high heat and saute your garlic and onion in a little butter or oil until soft. Add to the bowl with shrimp.
Shred your cheese or if your cheese is already shredded take a moment to be thankful.
Heat about a tsp of butter or oil in your skillet and place a tortilla in the center. Spoon 1/3 of your shrimp mixture over half the tortilla and cover with a handful of shredded cheese. Fold over the empty side of your tortilla to close and fry until the underside is brown and crisp and cheese is melty. Flip.
Continue frying until other side is also brown and crispy then transfer to a cutting board.
Repeat with remaining ingredients. Use a pizza wheel to cut each half moon into quarters.
If the tortillas in your pantry are the smaller fajita size you can make these by sandwiching the ingredients between two tortillas instead. You can serve these on their own or if you need to stretch them make some rice and some frozen corn or leftover black bean and corn salad to go along side. Congratulations, you made a meal out of "nothing."
Some other Pantry Challenge meals:
Chicken Breasts Stuffed with Goat Cheese and Garlic

Posted in Budget, Easy, Fast, Main Dish, Pantry Challenge