December 22nd, 2009 by katie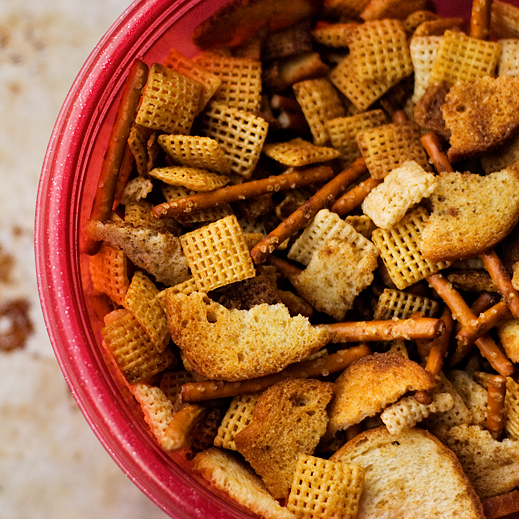 One last nibble before I leave you to enjoy your holiday.  I definitely have a salt tooth.  Its easy for me to avoid the candies and fudge and truffles of the season.  Its the spinach dip, cheese snaps, and crisp roasted turkey skin that I can't control myself around.  I guess I could call it a fat tooth!  Since you get one month a year to really blow your diet, this is the party mix your guests will reach for when they're sick of all the sugar.
You keep your bacon grease in a jar in the fridge, right?  If you don't you should-it adds tons of flavor to your regular dishes.  Just cook your bacon, strain the fat into a glass jar and refrigerate.  Of course, you can use all butter for this if you really must.
Oven Baked Chex Mix
makes 12 cups, prep 5 min, cook 1 hour
3 tbsp bacon grease
3 tbsp butter
1/2 cup Worcestershire sauce
1 tsp dry mustard
2 tsp garlic powder
1/2 tsp onion powder
1/2 tsp hot sauce (like Tabasco)
salt to taste
9 cups Chex cereal (in combination, such as 3 cups corn, 3 cups rice, and/or 3 cups wheat)
1 cup small pretzels
1 cup broken garlic bagel chips
1 cup mixed nuts (optional)
Preheat oven to 250°F.  Place butter and bacon grease in a large roasting pan and place in the oven to melt.  You can also melt butter and bacon grease in a small saucepan.
Once butter and grease are melted, whisk in Worcestershire, mustard, garlic, onion, and hot sauce.  Taste and salt to desired amount. I used unsalted butter and about 2 tsps of Kosher salt.  You can also sub ranch dressing mix for the spices if you want ranch chex mix.
If using a sauce pan, pour mixture into a roasting pan.
Quickly add cereal, pretzels, bagel chips, and nuts to the pan and toss to coat as evenly as possible.
Place roaster into the oven and bake for about 1 hour, stirring thoroughly every 15 minutes.
If you are looking for more holiday recipes check out this post here from Thanksgiving, it lists most of our tried and true holiday recipes.  I hope you get some rest and quality time with family and friends.  See you next year!

Posted in Easy, Snacks/Appetizers