August 26th, 2009 by katie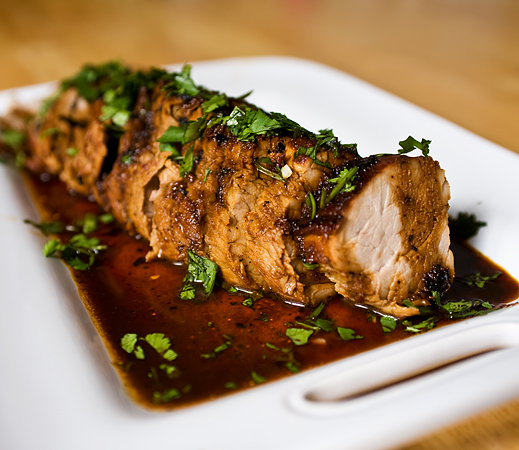 Woo hoo!  I am glad to be home!  We had this pork tenderloin just before we left and I can't wait to have it again.
I LOVE a grilled pork tenderloin.  It is one of my favorite things-the outside gets crisp and caramelized while the middle is moist and juicy.  This recipe was originally intended for the grill, but we couldn't get it together that night and wound up pan roasting it instead.  Boy am I glad!  I know we'll try again at grilling it in the future but this was wonderful roasted and served with the pan sauce.  As for mrChaos's opinion: This is the best pork tenderloin ever. Why haven't you been making this for years?
The pan roasting is a great, quick way to cook the tenderloins.  Marinade the meat before bed and you will have a quick weeknight dinner the next day.  I made our usual rice-a-roni pilaf and some creamed corn (spiced up with jalapeno salt, thanks Melissa!) while the pork roasted.  Despite the honey, this dish is not too sweet and it is great with or without cilantro if you aren't the cilantro type.
Chipotle Honey Lime Pork Tenderloin
serves 6, prep 15 min, marinate overnight or as long as possible, cook 20 min, adapted from
Alton Brown
2 lbs pork tenderloin (2 small tenderloins)
1 cup lime juice, about 8 juicy limes
zest from 2 limes
1/2 cup honey
1 tbsp kosher salt
1 tsp garlic powder
2 chipotle chiles in adobo sauce, chopped
1 tbsp adobo sauce (from canned chilies)
peanut oil, or other high temperature oil
cilantro
Trim tenderloins of fat and silver skin as much as possible.  Place in a large ziplock bag or other container to marinate.
In a bowl combine lime juice, zest, honey, salt, and garlic powder.
Stir to combine, then pour half over tenderloins, reserving half for sauce.
To tenderloins add chiles and adobo sauce.  Seal and marinade in fridge.
About 30 minutes before you are ready to cook, remove pork from fridge and allow to come to room temperature.
Preheat oven to 425°F.  In a large, heavy oven-proof skillet (like a cast iron skillet), heat enough oil to coat over medium high temperature.
Remove tenderloins from marinade and sear in hot skillet on all sides.
Place the skillet in the oven and roast tenderloins for about 15 min.
Check temperature with an instant read thermometer.  Remove pork from the oven at approximately 140-145, cover pork in skillet with foil. Let rest on the counter for 5-10 minutes or until temperature rises to 150.
Remove pork to a cutting board, pour reserved lime juice mixture into skillet with meat juices and heat on high.
Allow sauce to reduce and thicken slightly, then pour over sliced pork tenderloins.  If you don't have enough sauce or it thickens too much you can add a little water and continue simmering it until it is the quantity and thickness you want.
Garnish with freshly chopped cilantro.
If you choose to grill, start at step 5 and grill your tenderloins about 15 minutes.  Remove from the grill to a platter at 140°F. Pour reserved lime juice mixture over meat and cover with foil.  Allow to rest 10 minutes.  Then slice, garnish with cilantro and serve.
Pork tenderloin is very lean and requires a gentle hand to keep it from drying out.  If you choose to use a pork loin it will require longer cooking time and not be as tender.