August 30th, 2009 by katie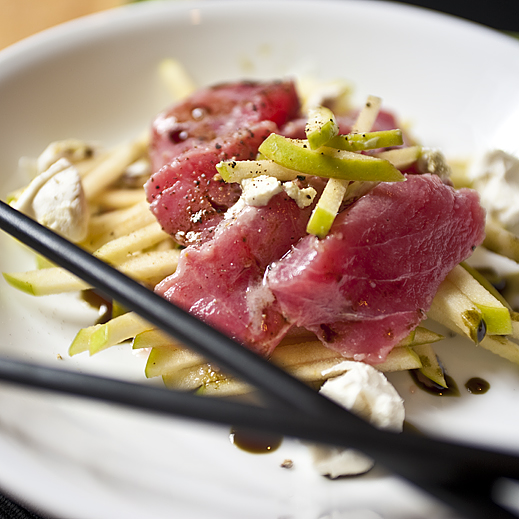 I am not the biggest fan of raw fish.  Really, I am not.  I prefer my sushi cooked, my salmon well done, and my tuna-well, let's just say I don't particularly care for tuna any which way.  Until recently, that is.  On a recent trip to Uchi in Austin, mrChaos ordered this small dish of Maguro tuna sashimi with green apples, pumpkin seed oil, and goat cheese.  And it rocked my world.  The wonderful crunch and tang of the apples and the creamy bits of cheese went perfectly with the melt in your mouth bites of fish.  Maguro, or ahi, is yellowfin or bigeye tuna and has a firm texture and a buttery mouth feel.  We loved the maguro sashimi at Uchi so much that we ordered it again for dessert.  We have also since made it at home as mrChaos's georgous photo can attest.
Tuna and Goat Cheese Sashimi
serves 2, prep 10 min, from
Uchi via Whole Foods
6 oz. sushi grade yellowfin tuna, sliced into bite-size pieces
sea salt and black pepper
2 cloves garlic, minced
3 tbsp San Bai Zu (see below)
1 Granny Smith apple, julienned
4 tsp pumpkin seed oil
3 oz. soft goat cheese, crumbled
San Bai Zu
6 tbsp rice wine vinegar
2 tbsp sugar
1 tbsp soy sauce
pinch of salt
1 tbsp water
Make the San Bai Zu.  Whisk vinegar and sugar together until dissolved.
Whisk in soy sauce, salt and water.
Toss the tuna with salt, pepper, garlic, and San Bai Zu.
Arrange apple slices on a plate. Place tuna over apples and drizzle with San Bai Zu mixture.
Drizzle with pumpkin seed oil and dot with bits of goat cheese.  Serve.
This dish seems complex but really it is a simple, no-cook salad.  Perfect for the end of a hot summer.  Ask your grocer for sushi grade tuna and don't be concerned if they only have it frozen.  Thaw the fish quickly in an ice water bath or slowly in the refrigerator.  Whole Foods, by the way, does not sell sushi-grade fish but I know it is available by mail order if your local grocer doesn't carry it.

Posted in Easy, Fast, Salads, Snacks/Appetizers