September 13th, 2009 by katie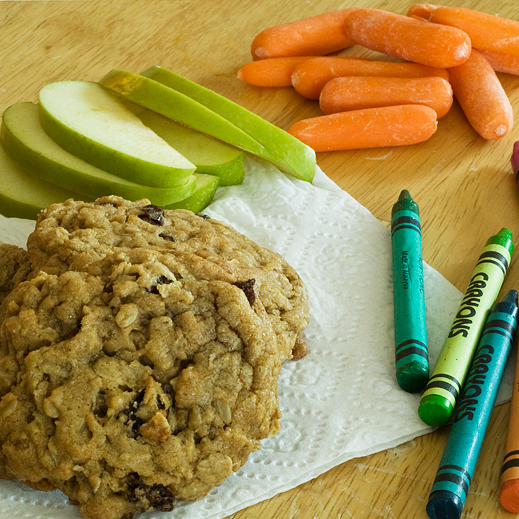 Pumpkin spice lattes, honeycrisp apples, and Halloween costumes in every store all point to the return of my favorite season: fall.  The kids are back in school by now and baking season is nipping at our heels, so it's a good time to post my favorite lunch box oatmeal cookies.  I was once told that people like my blog because it's so unsophisticated, so hopefully I haven't scared you off with all of the raw fish. 
Oatmeal raisin cookies are a great, cheap afternoon project that fills the house with cookie smell and children begging to lick the bowl.  I like to add something sweet to the lunch boxes and this recipe makes a nice large batch to stash away in the freezer.
These are my favorite oatmeal raisin cookies.  They are chewy and hearty and sweet and salty.  I used the same techniques as these chocolate chip cookies-bread flour, unsalted butter, and kosher salt-and they have a very similar texture and saltiness.  They are great for a pick me up snack.
Oatmeal Raisin Cookies
makes 36, prep 15 minutes, cook time 30 min, adapted from
Recipezaar
2 cups all-purpose flour* or bread flour
1 teaspoon baking soda
1 teaspoon baking powder
1 teaspoon kosher salt
1 cup unsalted butter, softened
1 cup sugar
1 cup dark brown sugar, firmly packed
2 large eggs
2 teaspoons vanilla
3 cups old fashioned oats
1 1/2 cups raisins
Preheat oven to 350°F.
In a bowl, whisk together flour, baking soda, baking powder, and salt.
In a mixing bowl cream together butter and sugars.  Add eggs and vanilla and beat until fluffy and lighter in color.
Stir in the flour mixture until fully combined.
Stir in oats and raisins.
Using a small cookie scoop (2 tbsps), place dough about 2 inches apart on baking sheet.
Bake about 11 minutes or until cookies are no longer glossy on top.
Cool cookies on sheet for about two minutes, then remove to a cooling rack.
These cookies don't get a lot color on them so be careful not to over bake them!  I like to under bake my cookies a bit, I pull them when the top is set but the nooks and crannies are still a bit glossy.  They firm up as they cool but remain moist and chewy.  Also, I always freeze my cookies in freezer bags or containers once they are cool.  It keeps them out of sight and out of mind (which keeps us from polishing off 3 dozen in a night-which we can easily do and have done) and keeps them fresh.
Cookies freeze wonderfully, by the way.  They retain all of their texture and moisture and thaw in only a few minutes at room temperature.  A great way to get a jump on your Christmas baking is to tuck away a few dozen cookies here and there whenever you bake.
* Here's a little kitchen tip: I use ultragrain all purpose flour.  It is an unbleached whole wheat white flour blend and you will never notice any difference in your recipes yet it provides as much fiber and protein as whole grain wheat flour.  The best part: it isn't nearly as expensive as the specialty flours labeled "Unbleached White Whole Wheat Flour." Score.  For these cookies I used one cup ultragrain and one cup bread flour but feel free to use all bread flour or all all-purpose flour as desired.

Posted in Desserts, Easy, Health/Nutrition, Snacks/Appetizers